Christmas is a time of happiness and joy. Let's get to know more details about it and learn some Christmas Vocabulary together.
Christmas Vocabulary
There is a bunch of essential Christmas vocabulary that everyone must know.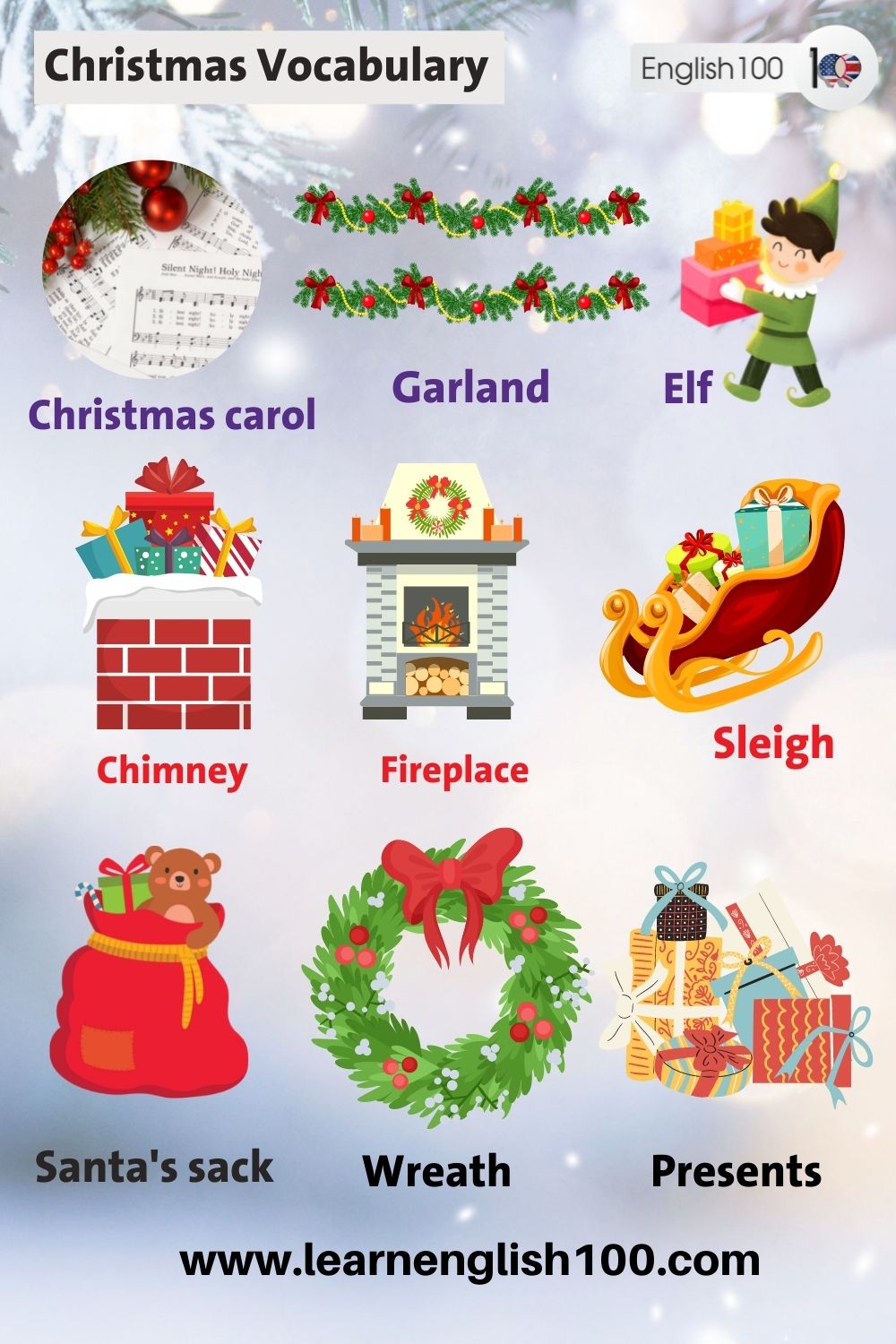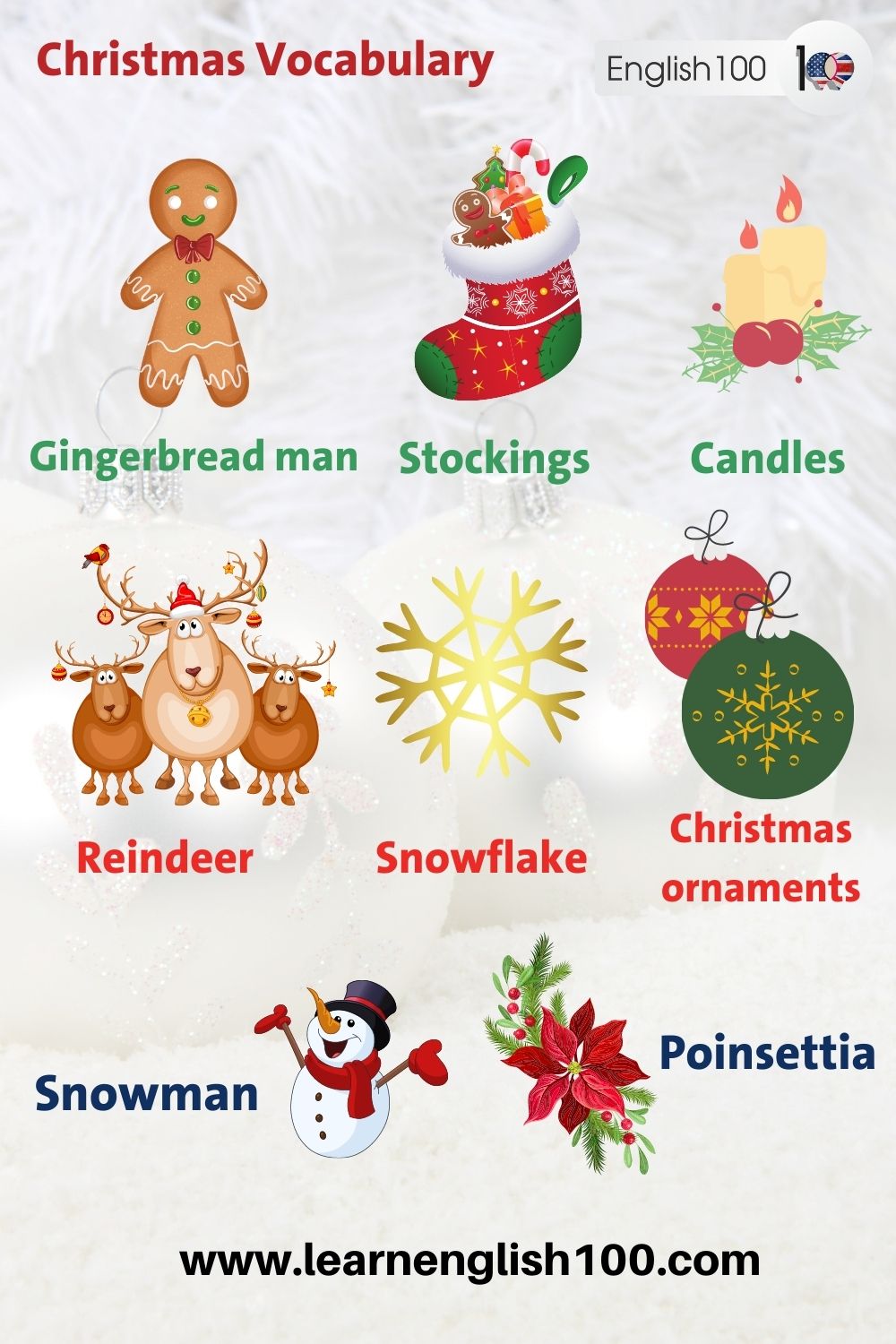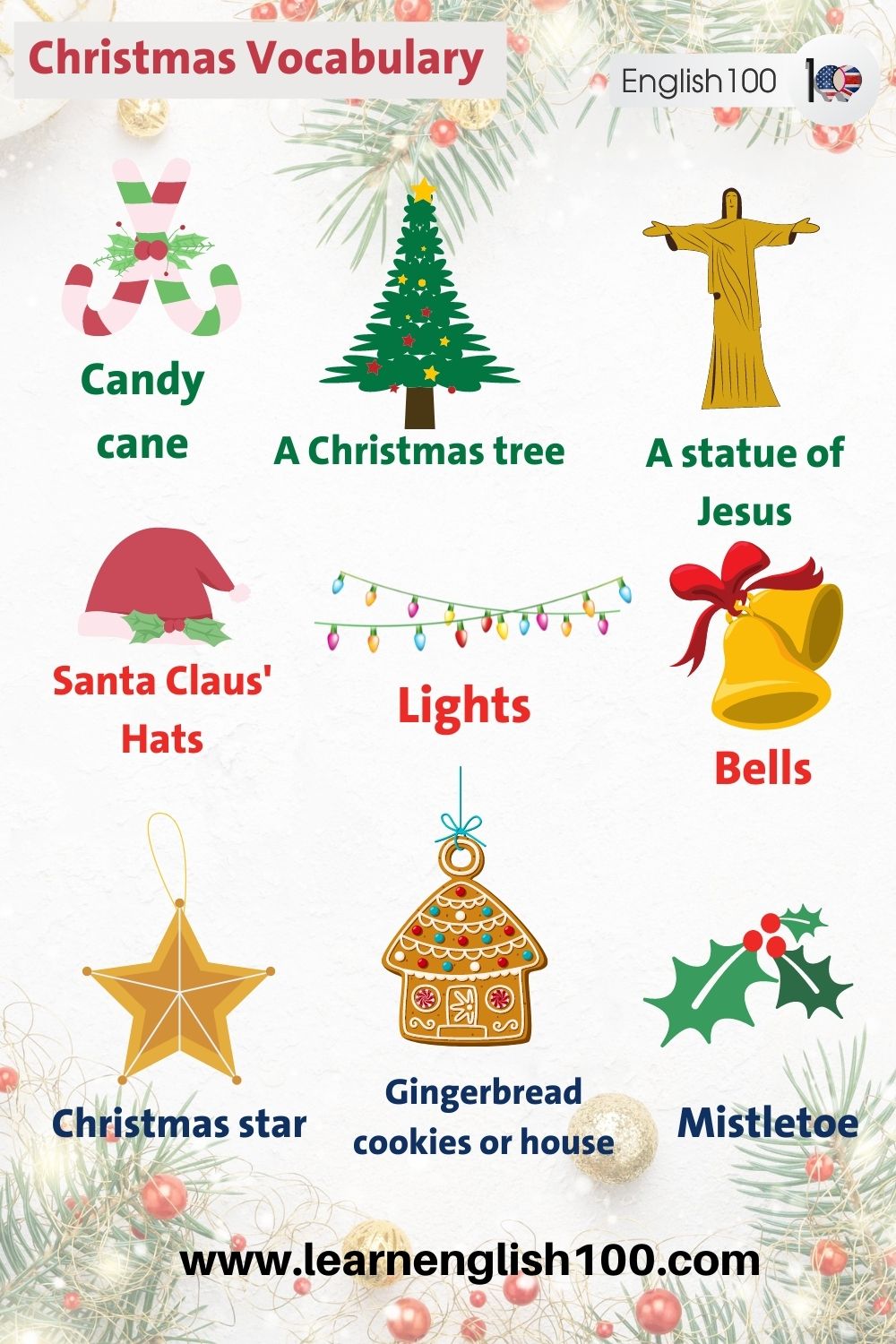 A Christmas tree
A statue of Jesus
Santa Claus' Hats for everyone
Lights
Candy cane
Bells
Stars
Gingerbread cookies or house
Snowglobe
Mistletoe
Christmas carol
Fireplace
Elf
Chimney
Presents
Sleigh
Christmas card
Santa's sack
Wreath
Garland
Gingerbread man
Stockings
Candy
Candles
Reindeer
Holly
Christmas ornaments
Snowflake
Snowman
Poinsettia
A Christmas Story about Santa
Stories about Santa are a must of every Christmas eve. Here's a very short story about Santa.
In ancient times, there was a very special and very kind man. This man was also extremely wealthy.
This man was very loved by everyone around him because his heart was full of love to everyone. His uniqueness sprung out of his devotion to spreading happiness where the light of hope has dimmed.
He loved giving away presents, in secret, and it made him very very happy. However, after a while, a story that broke his heart came to his attention. There was a very proud man with three daughters all of whom had found love and wanted to marry. However, it was still traditional for the bride's family to pay for the wedding, and their father was too poor to pay for one wedding let alone three consecutive weddings.
The rich man was extremely sad that those women can't live happily and are losing the time of their lives waiting for something to happen and allow them to marry the men they love. Thus the rich man decided that he will come up with a plan to help them. The very rich man who is named Nicholas dropped a bag of jewelry and gold down the chimney of the proud but poor dad. That money was just enough for the man to marry his first and oldest daughter. Ned decided to drop this bag the very first day he finished planning his strategy. On the following day to the day he dropped the first bag, he dropped another bag of money and gold down the chimney, but it fell and got stuck in a stocking. The second daughter had put the stocking there to dry. She showed the bag to her father, and they decided that it was a lucky day and that she should marry on the spot.
On the third day, the poor man Charles decided that he will stay up and at the very minimum say "Thank You" to the mysterious helper who had turned his life around. On the other hand, the exhaustion of celebrating two weddings back to back was very overwhelming, and Charles was falling asleep when he heard a noise on the roof. He jumped out of his chair and went outside to see Nicholas on the roof dropping the third bag down the chimney. Guess what did it contain?
Of course gold, money, presents, jewelry, and a wedding dress as well for the youngest daughter.
Charles shouted, "Oi, thee brought joy to a house of mine, inform me on how to repay you?" Nicholas replied: "There are so many ways you can spread joy; it is not all about money and presents. "Say a kind word, hold the hand of the weak, listen to the aching and tired, give a comforting hug, smile at everyone, and be happy on the inside, for no one can make anyone happy unless they are happy too." Go to >> http://jdem.cz/aaaa5
Finally, Nicholas was given the prestigious title of a saint postmortem due to his immense contribution to everyone. He was named saint Nicolas or as it is more publically known Santa Claus.
From this story and many similar other springs the idea that if you are in a pit, but you stay faithful and positive a Santa Claus will come on reindeer and if you want to meet him put out the milk and biscuits which if you don't have or have not bought is not a problem, you can put out any Christmas cookies you can make. The best Christmas cookies are made with cinnamon that adds a very strange but lasting and sweet taste in the mouth for the rest of the night.
Christmas Meaning
The basic meaning of Christmas is the birth of Christ. The meaning of Christmas must be manifested in your behavior and not vanish in a snowfall. Family is what you are waiting for to be happy, let's cherish them with Christmas greetings like Santa does every year. The most known greeting is merry Christmas. Other known greetings during Christmas time are these: Happy holidays, Joyeux Noël, Warmest wishes, and so on. However, words may vary in the united states or in other countries or across languages like the dutch language "vrolijk kerstfeest". The birth of Jesus is a time of forgiveness and happiness, so don't focus on anything else.
It is also the holiday season, so it is a time for gathering with family, friends, and loved ones. We hope that you enjoyed our article. Share with us some Christmas Vocabulary that you know.