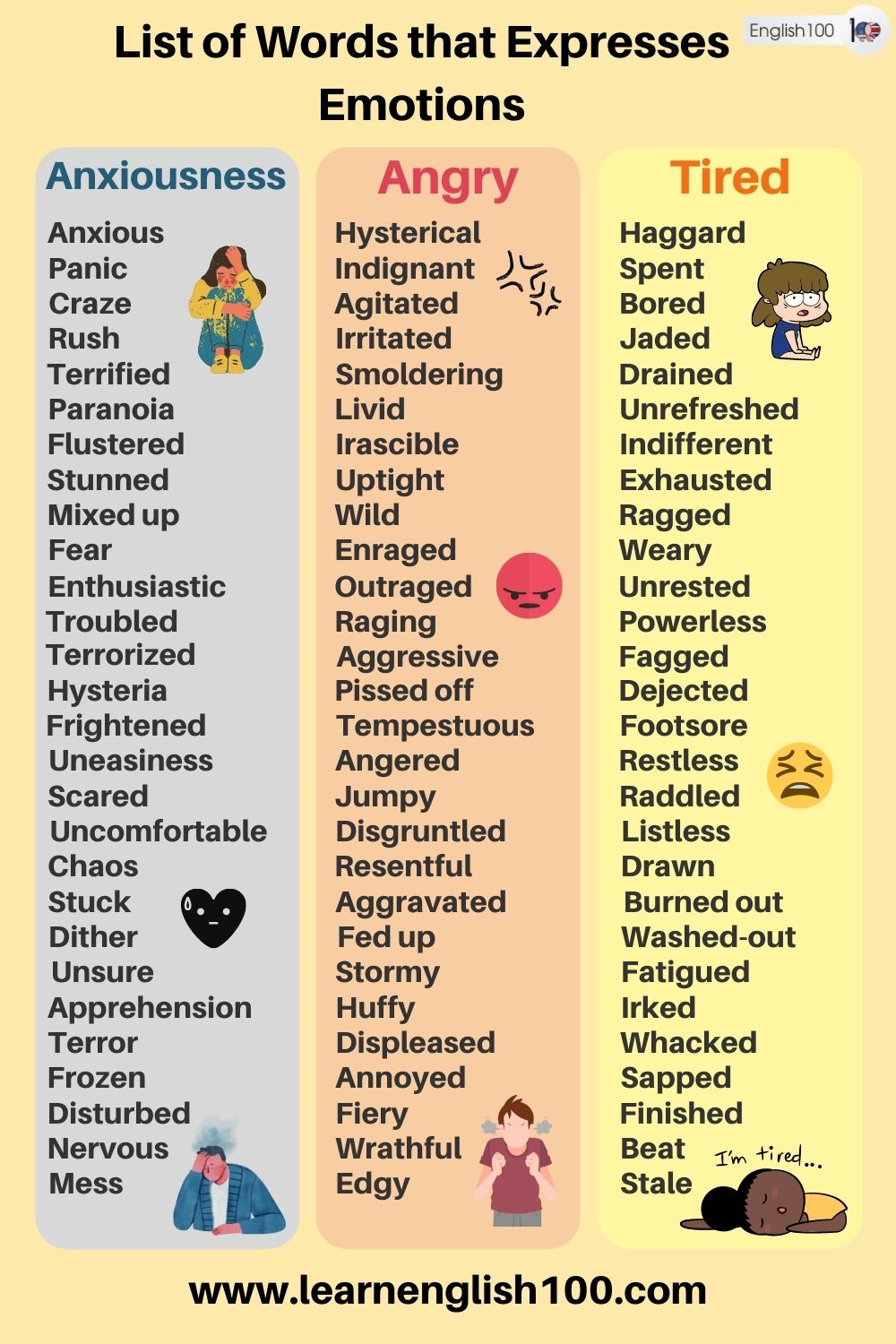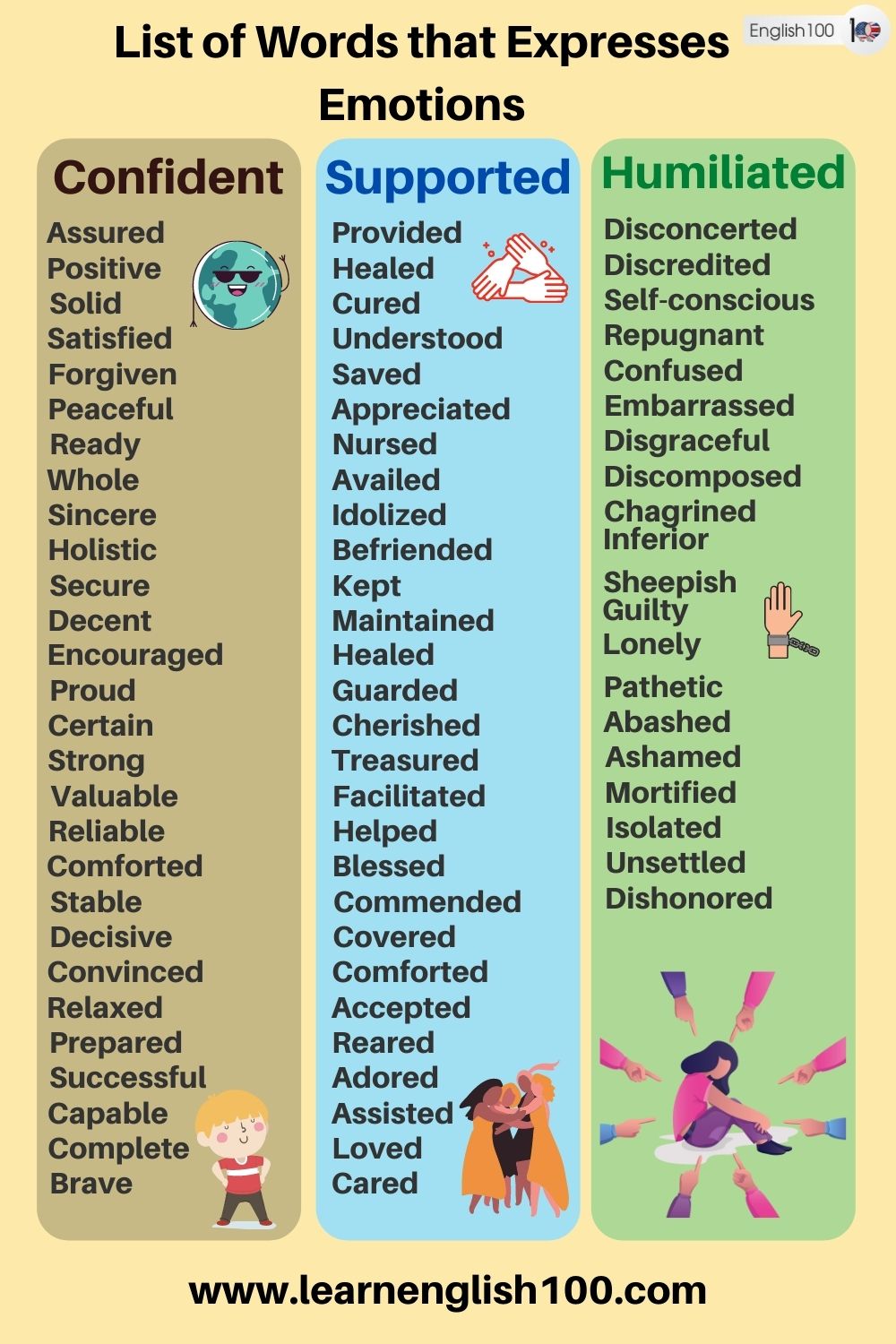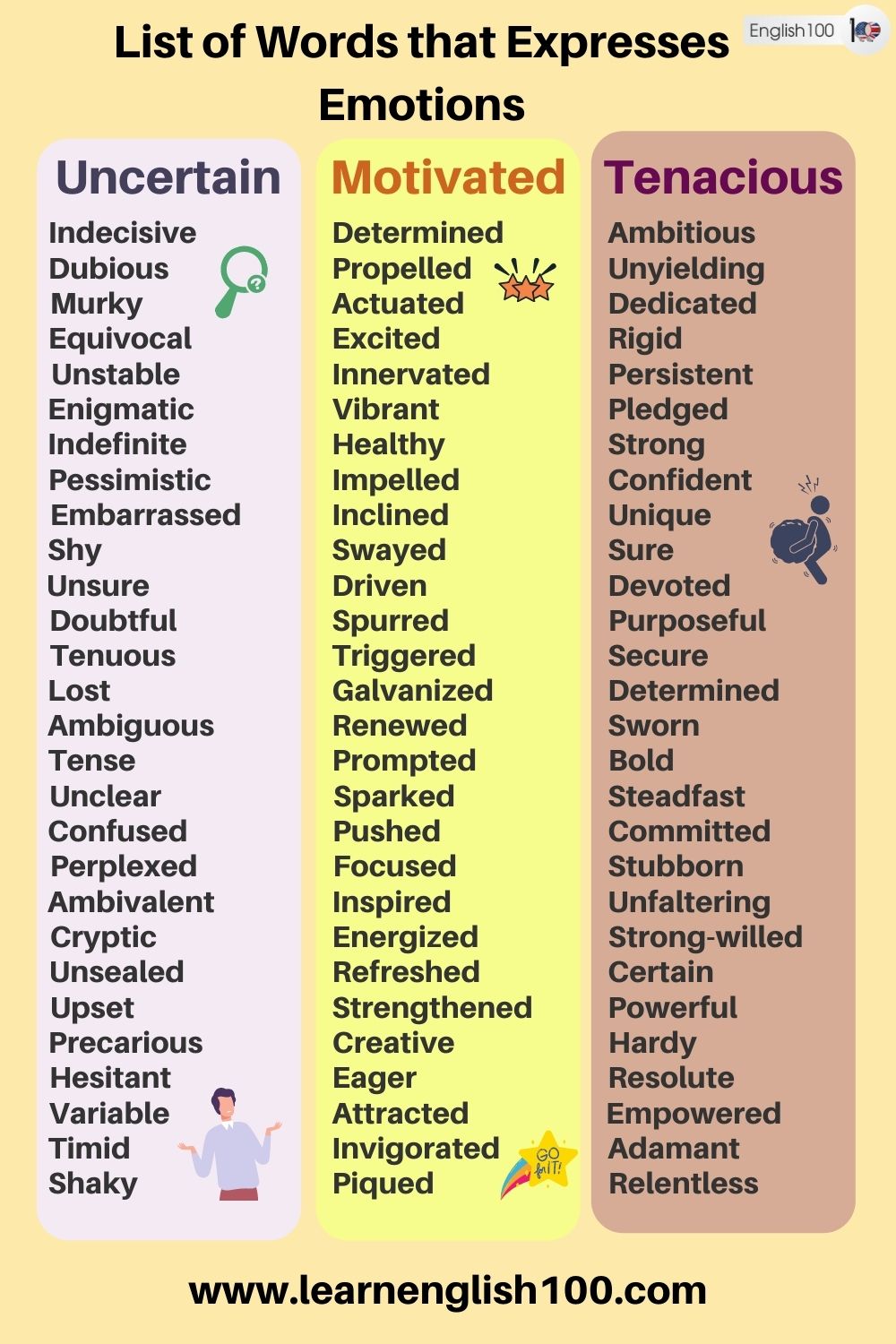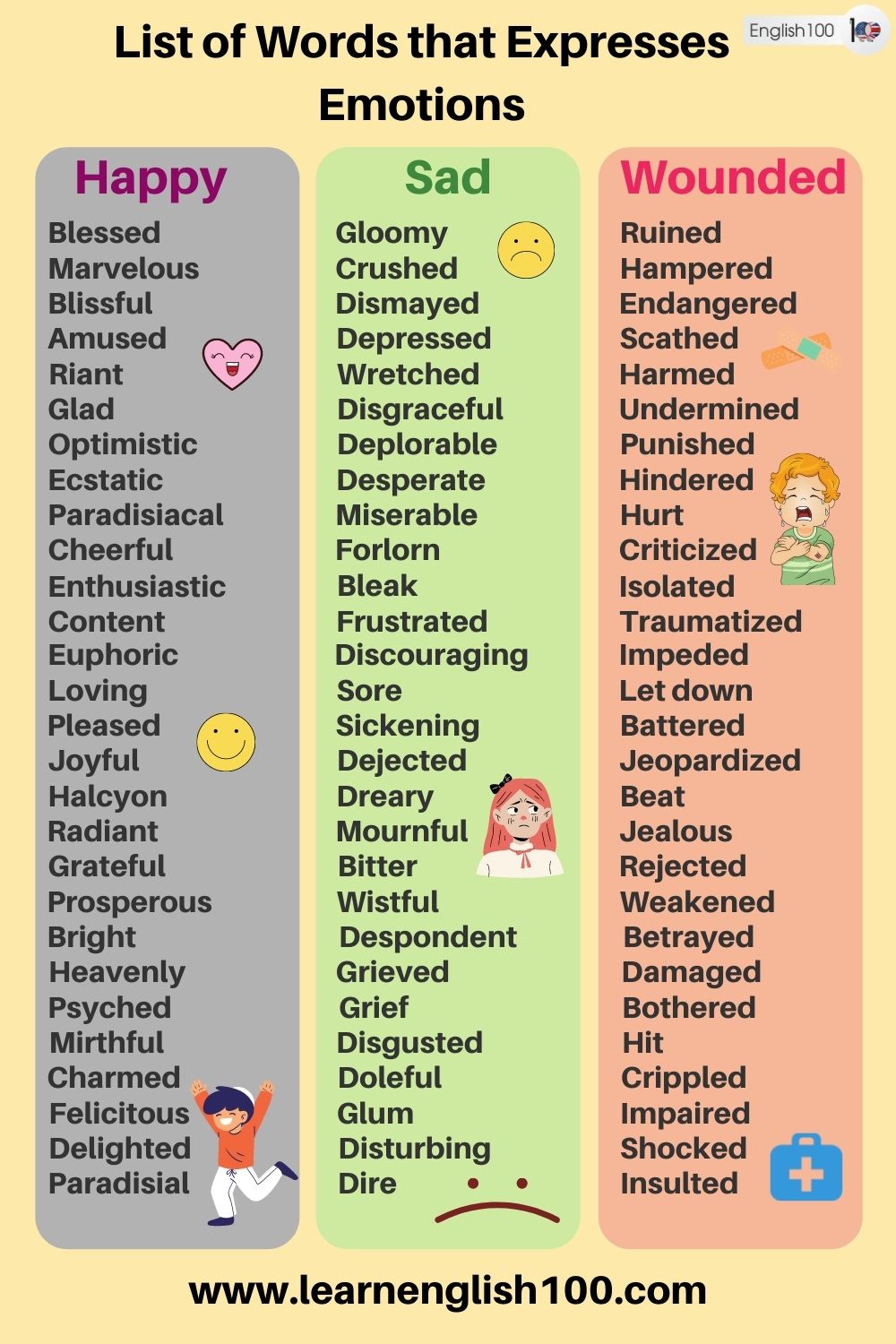 Enjoy our extensive list of words that will help you list the emotions that you are having in an accurate manner. Here's our feeling words list:
Sad
Gloomy
Crushed
Dismayed
Depressed
Wretched
Disgraceful
Deplorable
Desperate
Miserable
Forlorn
Bleak
Frustrated
Discouraging
Sore
Sickening
Dejected
Dreary
Mournful
Bitter
Wistful
Despondent
Grieved
Heartbroken
Unfortunate
Grief
Disgusted
Doleful
Heavyhearted
Glum
Disturbing
Unhappy
Dire
Terrible
Distress
Upset
Dull
Sobering
Weepy
Tragic
Melancholic
Disappointed
Sorrowful
Grim
Somber
Ashamed
Dreadful
Awful
Appalling
Pathetic
Bummed
Dismal
Pitiful
Lamentation
Happy
Blissful
Amused
Optimistic
Ecstatic
Paradisiacal
Euphoric
Loving
Pleased
Joyful
Halcyon
Radiant
Grateful
Prosperous
Bright
Psyched
Mirthful
Heavenly
Riant
Content
Marvelous
Blessed
Glad
Cheerful
Enthusiastic
Paradisial
Delighted
Felicitous
Charmed
Wounded
Ruined
Hampered
Endangered
Scathed
Harmed
Undermined
Punished
Hindered
Hurt
Criticized
Isolated
Traumatized
Impeded
Let down
Battered
Jeopardized
Beat
Jealous
Rejected
Weakened
Betrayed
Damaged
Bothered
Hit
Crippled
Impaired
Distressed
Shocked
Insulted
Suffered
Offended
Crushed
Bruised
Injured
Abused
Forgotten
Ached
Pestered
Anxiousness
Anxious
Panic
Craze
Rush
Terrified
Paranoia
Flustered
Stunned
Mixed up
Fear
Troubled
Terrorized
Hysteria
Frightened
Uneasiness
Scared
Uncomfortable
Chaos
Stuck
Dither
Unsure
Apprehension
Terror
Frozen
Disturbed
Nervous
Pandemonium
Mess
Horror
Fluctuation
Angry
Hysterical
Agitated
Indignant
Irritated
Livid
Smoldering
Irascible
Uptight
Wild
Enraged
Outraged
Raging
Aggressive
Tempestuous
Pissed off
Angered
Jumpy
Resentful
Disgruntled
Aggravated
Fed up
Stormy
Huffy
Displeased
Annoyed
Fiery
Critical
Wrathful
Edgy
Bitter
Irated
Cranky
Disgusted
Mad
Wroth
Provoked
Short-fused
Furious
Cross
Infuriated
Exasperated
Choleric
Tired
Haggard
Indifferent
Spent
Bored
Jaded
Drained
Unrefreshed
Exhausted
Ragged
Weary
Unrested
Powerless
Fagged
Dejected
Footsore
Restless
Raddled
Listless
Drawn
Burned out
Washed-out
Fatigued
Irked
Whacked
Sapped
Finished
Beat
Stale
Enervated
Torn
Consumed
Aweary
Drowsy
Careworn
Faint
Knackered
Empty
Overwhelmed
Flagging
Tuckered out
Collapsing
Confident
Assured
Positive
Solid
Satisfied
Forgiven
Peaceful
Ready
Whole
Sincere
Holistic
Secure
Decent
Encouraged
Proud
Certain
Strong
Valuable
Reliable
Comforted
Stable
Decisive
Convinced
Relaxed
Prepared
Successful
Capable
Complete
Brave
Bold
Supported
Provided
Healed
Cured
Understood
Saved
Appreciated
Nursed
Availed
Idolized
Befriended
Kept
Maintained
Healed
Guarded
Cherished
Treasured
Facilitated
Helped
Blessed
Commended
Accepted
Comforted
Reared
Adored
Covered
Assisted
Protected
Empowered
Retained
Served
Cared
Loved
Treated
Humiliated
Disconcerted
Discombobulated
Discredited
Self-conscious
Repugnant
Confused
Embarrassed
Disgraceful
Discomposed
Chagrined
Inferior
Sheepish
Guilty
Lonely
Pathetic
Abashed
Ashamed
Mortified
Isolated
Unsettled
Dishonored
Uncertain
Indecisive
Dubious
Murky
Equivocal
Unstable
Enigmatic
Indefinite
Pessimistic
Embarrassed
Shy
Unsure
Doubtful
Tenuous
Lost
Ambiguous
Tense
Unclear
Confused
Perplexed
Ambivalent
Cryptic
Unsealed
Upset
Precarious
Hesitant
Variable
Timid
Shaky
Questionable
Fragile
Motivated
Determined
Propelled
Actuated
Excited
Innervated
Vibrant
Healthy
Impelled
Inclined
Swayed
Driven
Spurred
Triggered
Galvanized
Renewed
Prompted
Sparked
Pushed
Focused
Energized
Inspired
Strengthened
Refreshed
Creative
Eager
Attracted
Invigorated
Piqued
Incited
Provoked
Persuaded
Tenacious
Ambitious
Unyielding
Dedicated
Rigid
Persistent
Pledged
Strong
Confident
Unique
Sure
Devoted
Purposeful
Secure
Determined
Sworn
Bold
Steadfast
Committed
Stubborn
Unfaltering
Strong-willed
Certain
Powerful
Hardy
Resolute
Empowered
Single-minded
Adamant
Relentless
Using any word from this list you can list the emotions you are experiencing any day and every day. Each word may even represent more than one meaning, so you have to be aware of its connotation and its uses as to not fall for the trap of double entendre.
This extensive list of English feeling words will enrich your vocabulary. Especially in everyday conversations where you'll need to use emotional words on a regular basis to describe your response to a variety of situations with a bunch of emotion words that can deliver different emotions. Now the dictionary may provide you with some words, but our list here will help you to gather all of your information in one place.
Our first list is words that speak of one's sadness. It can show a person's disgust of something up to a point, but there are other words in our list of emotions that can better describe that particular feeling. Some slang words that can describe that emotion are Ugh, Yikes, Yuck, and they are not exactly formal words from the adjective category that describes disgust.