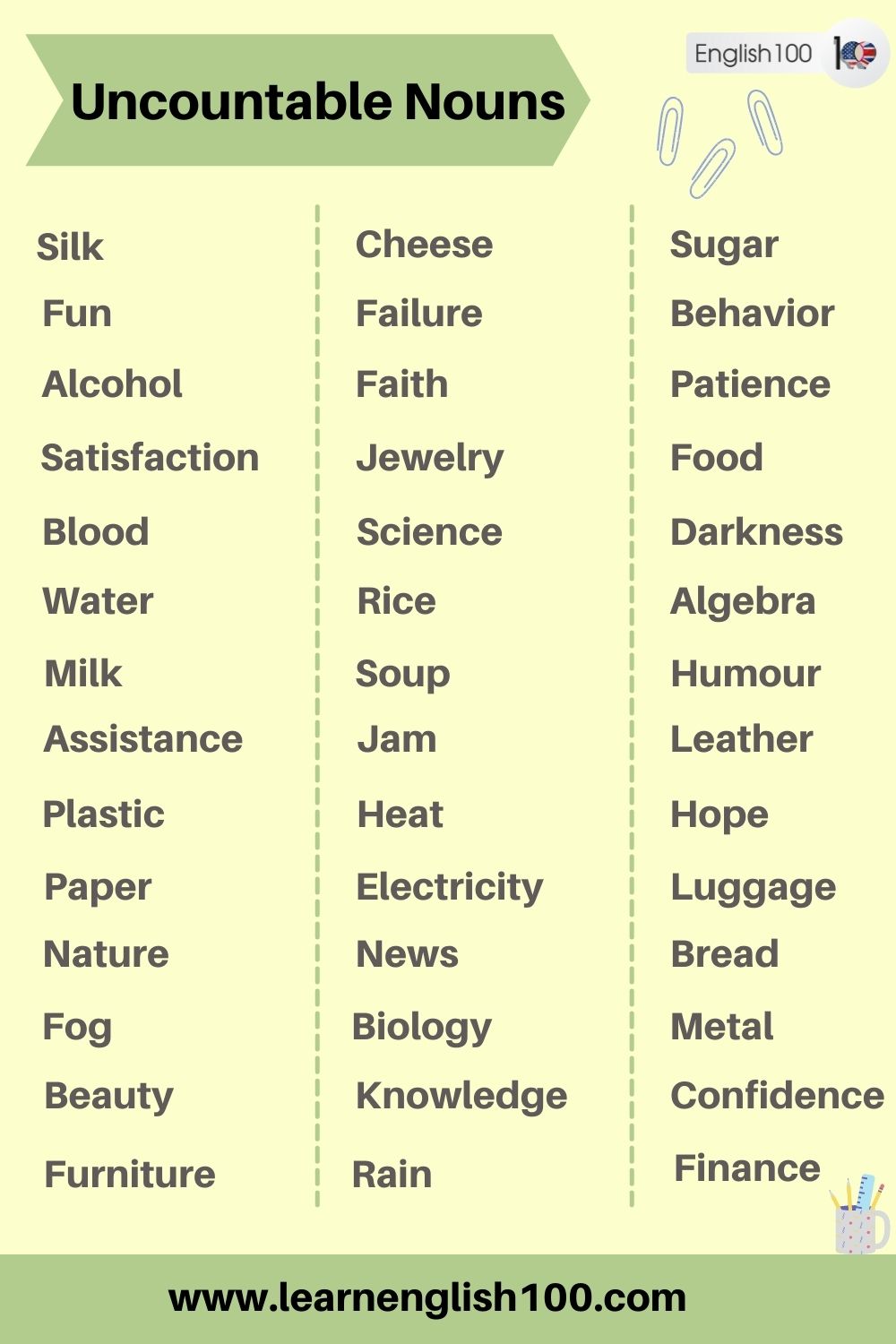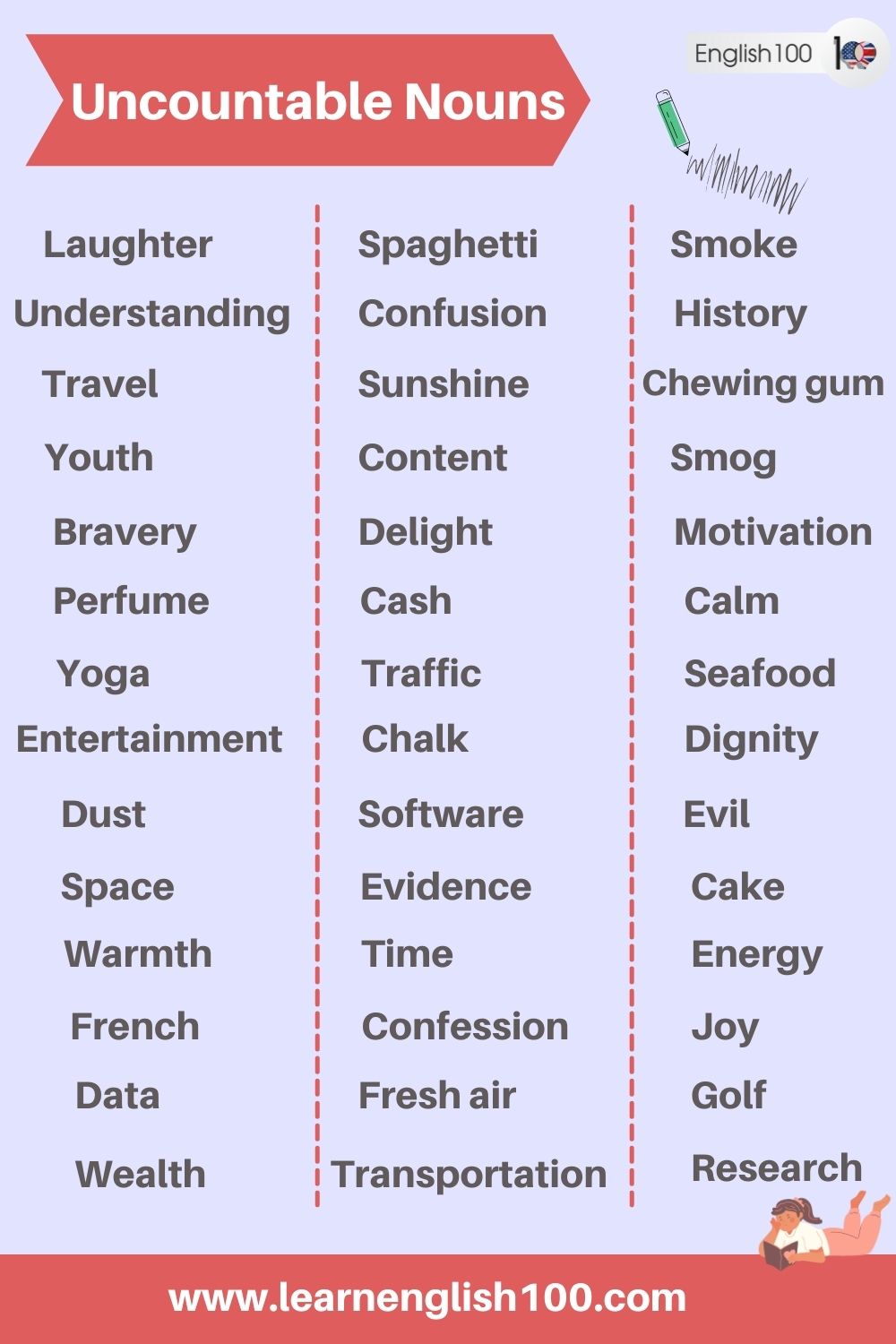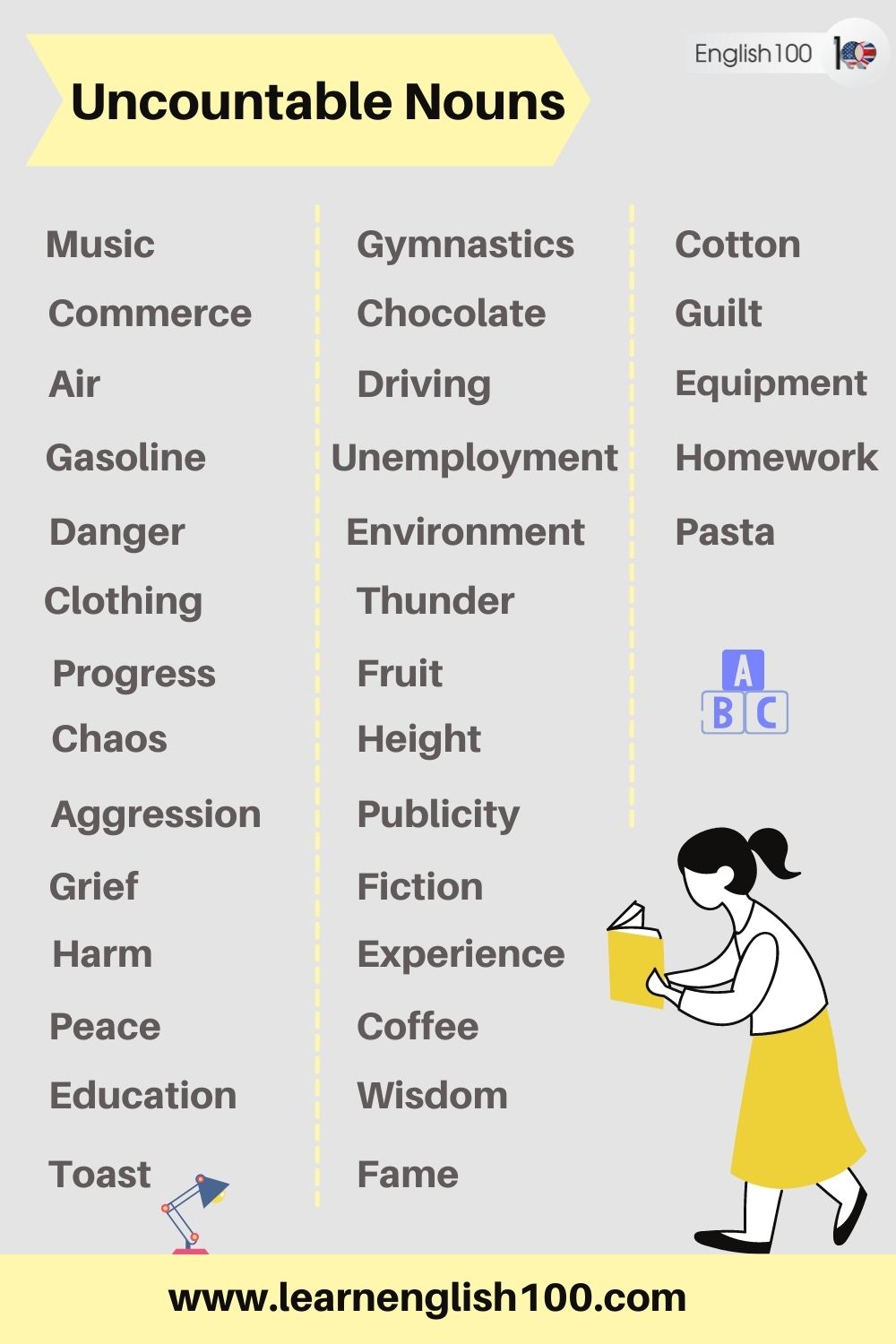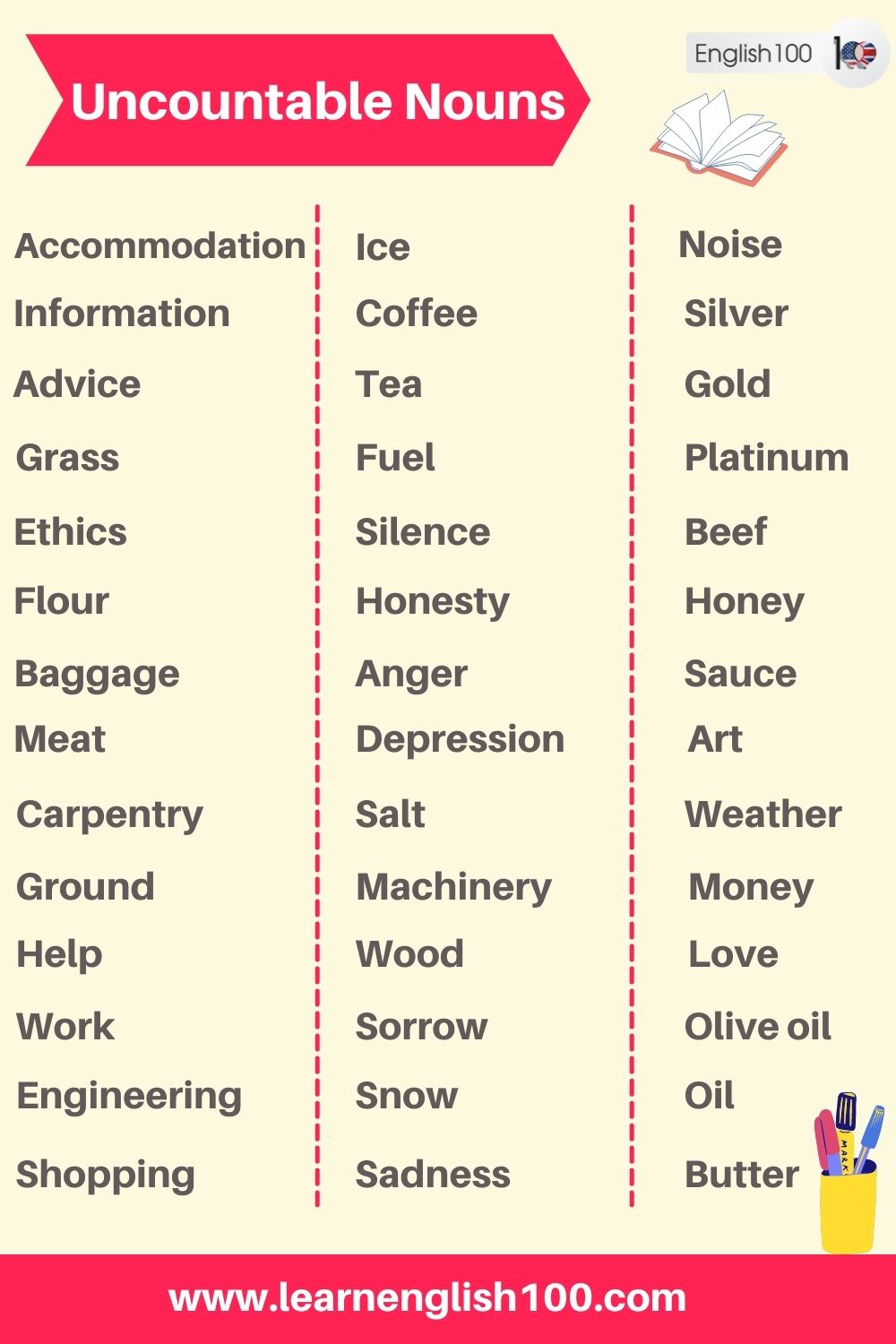 This is a fully-compiled list of All uncountable nouns.
Ethics
Accommodation
Information
Advice
Grass
Flour
Baggage
Meat
Carpentry
Ground
Help
Work
Engineering
Shopping
Ice
Coffee
Tea
Fuel
Silence
Honesty
Anger
Depression
Salt
Machinery
Wood
Sorrow
Snow
Noise
Sadness
Gold
Silver
Platinum
Beef
Honey
Sauce
Art
Weather
Money
Love
Olive oil
Oil
Physics – Despite the "s" at the end
Butter
Silk
Fun
Alcohol
Satisfaction
Blood
Water
Milk
Assistance
Plastic
Paper
Nature
Fog
Beauty
English – as a subject
Furniture
Cheese
Failure
Faith
Jewelry
Science
Rice
Soup
Jam
Heat
Electricity
News
Biology
Knowledge
Rain
Sugar
Behavior
Patience
Food
Darkness
Algebra
Humour
Leather
Hope
Luggage
Bread
Metal
Confidence
Finance
Laughter
Understanding
Travel
Youth
Bravery
Perfume
Yoga
Entertainment
Dust
Space
Warmth
French
Data
Wealth
Spaghetti
Confusion
Sunshine
Content
Delight
Cash
Traffic
Chalk
Software
Evidence
Time
Confession
Fresh air
Transportation
Smoke
History
Chewing gum
Smog
Motivation
Calm
Seafood
Dignity
Evil
Cake
Energy
Joy
Golf
Research
Music
Commerce
Air
Gasoline
Danger
Clothing
Progress
Chaos
Aggression
Grief
Harm
Peace
Education
Toast
Gymnastics
Chocolate
Driving
Unemployment
Environment
Thunder
Fruit
Height
Publicity
Fiction
Experience
Coffee
Wisdom
Fame
Cotton
Guilt
Equipment
Homework
Pasta
The English language contains a multitude of nouns. There are countable nouns that can be numerated and uncountable nouns that cannot be measured. However, the uncountable nouns may be measured in another way. Pluralizing the uncountable nouns directly is a violation of grammar. An indirect plural form is used through the usage of words like a pound, kilo, ton, etc.
English grammar possesses more than one way to pluralize abstract nouns or uncountable ones. To transfer a word from the singular form to the plural one, you should add the plural "s" and that's the apparent solution you'll find in the dictionary. But another very effective way is to use a collective noun like a bunch or a group in that sense, you can't say that this noun is a count noun, but it is closer to a countable noun with the addition of the collective noun. For instance, the word water could mean a drop, or a bucket, or a flood. However, when you say I drank too much water. It is clearer that you didn't drink a single glass nor have you consumed a large amount that could constitute a flood.
Not all uncountable nouns can be pluralized though like hope or happiness. On the other hand, material things like luggage can be pluralized indirectly. For example, one can say that he has three bags of luggage as you may notice there is no "s" at the end of the word.
Those nouns have an immediate relationship with the verb. Also, you can't have any determiner like "a, an, the" before the uncountable nouns. The verb is a singular verb after the uncountable nouns unless there is a word that pluralizes it. For example, a cup of coffee is a noun proceeded with a countable noun. If we added the word three before the aforementioned sentence, the verb changes into the plural form. Three cups of coffee during the first few hours of the morning are too much.
We hope that you enjoyed this article. Stay tuned for more detailed lists about uncountable nouns and other interesting topics.