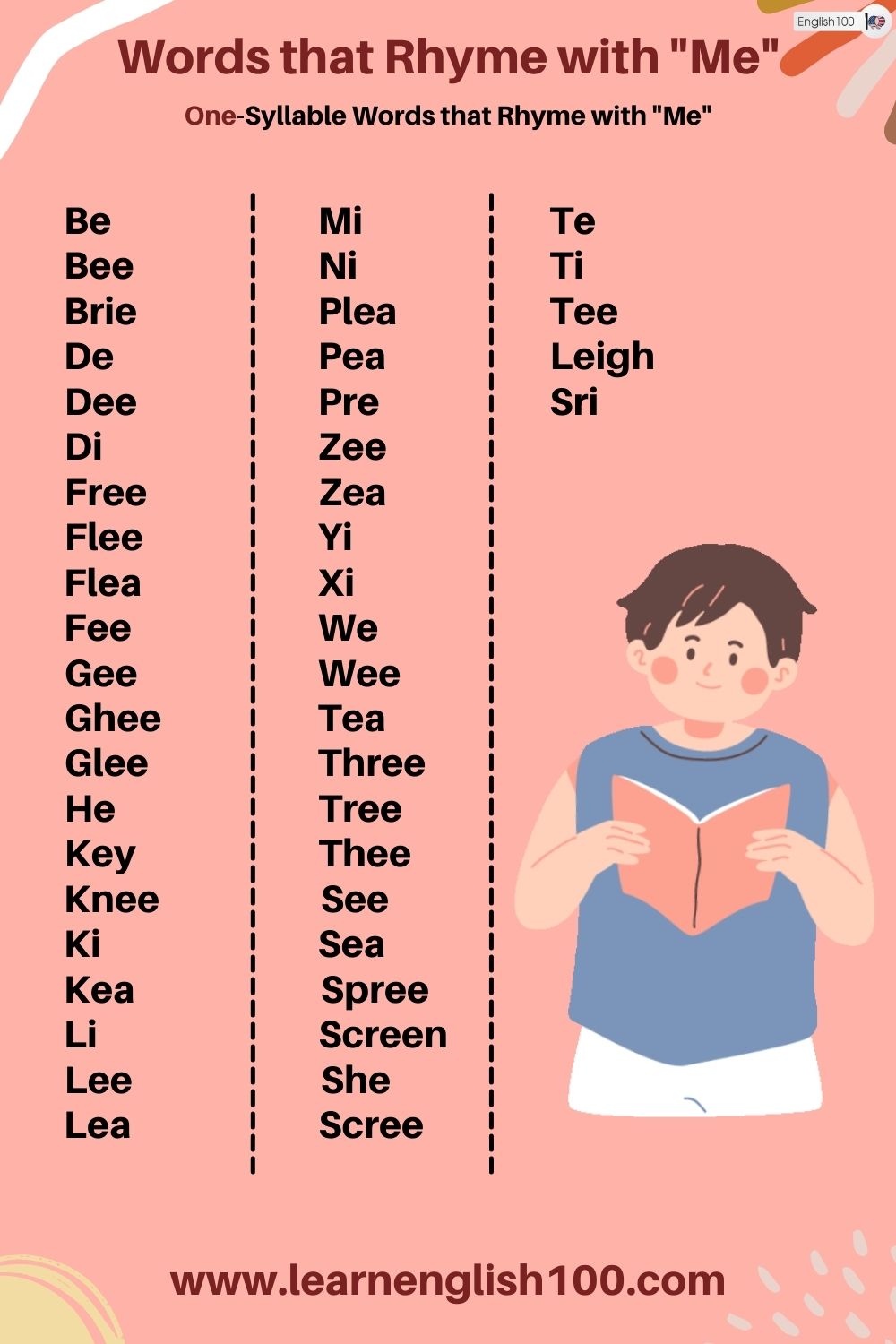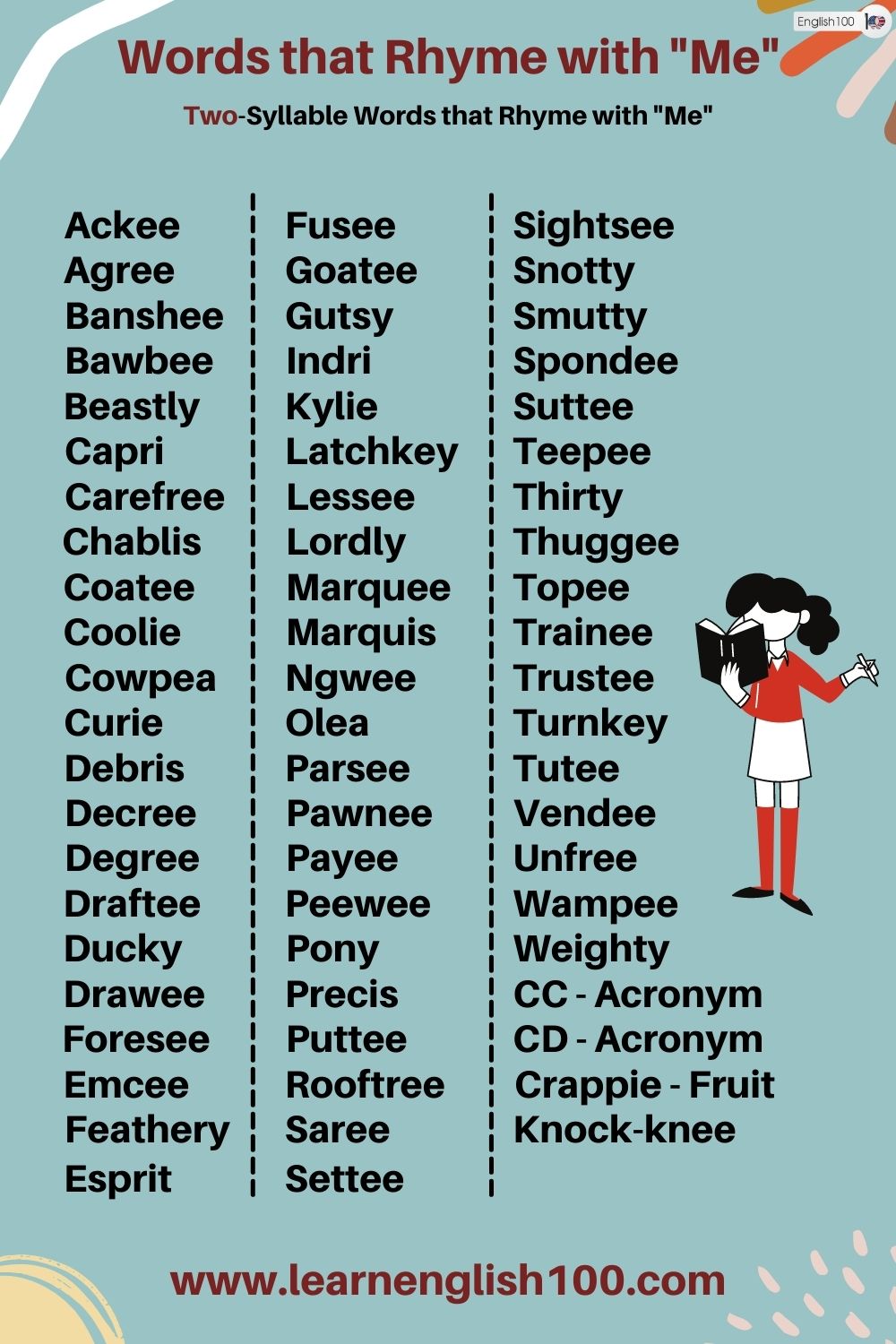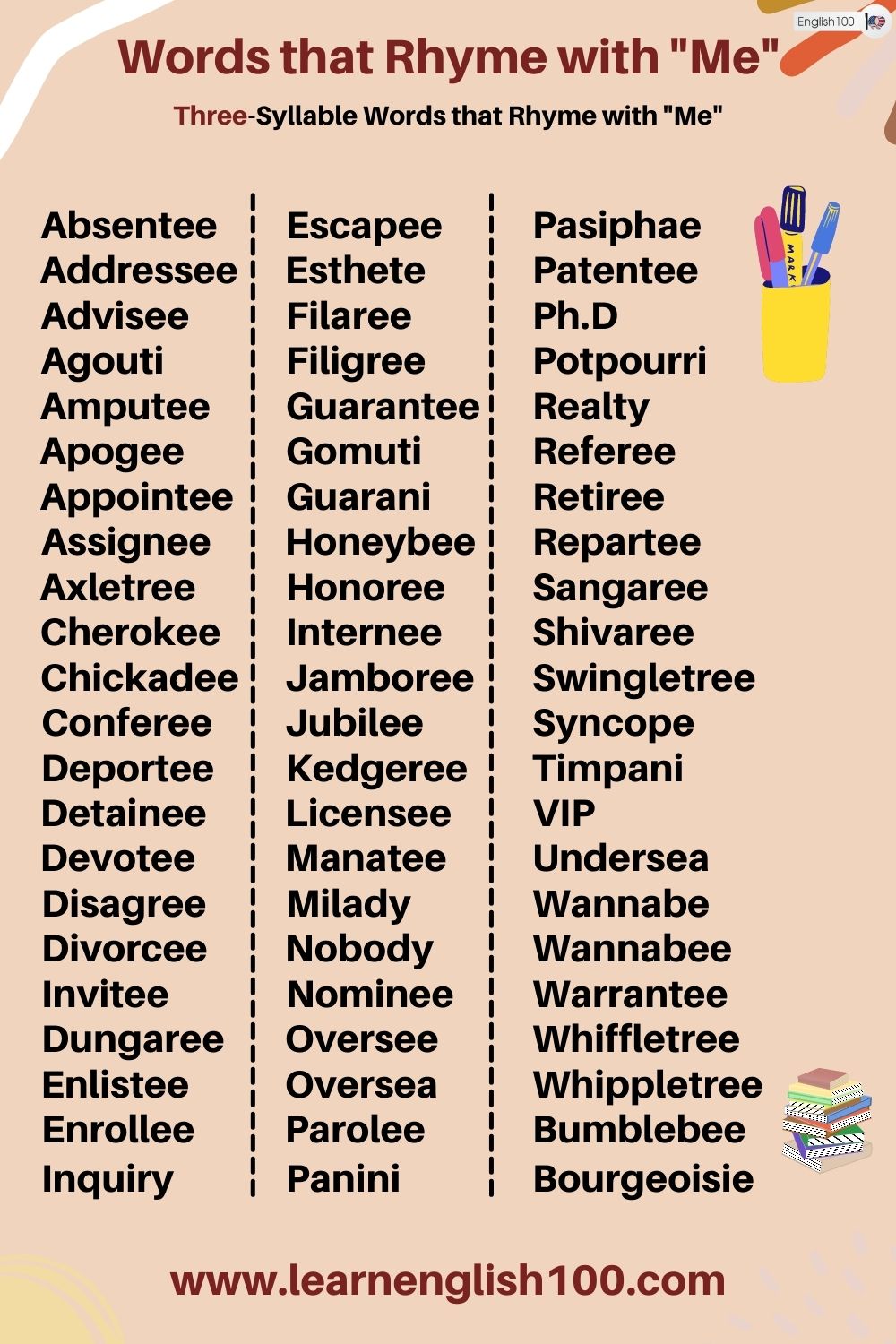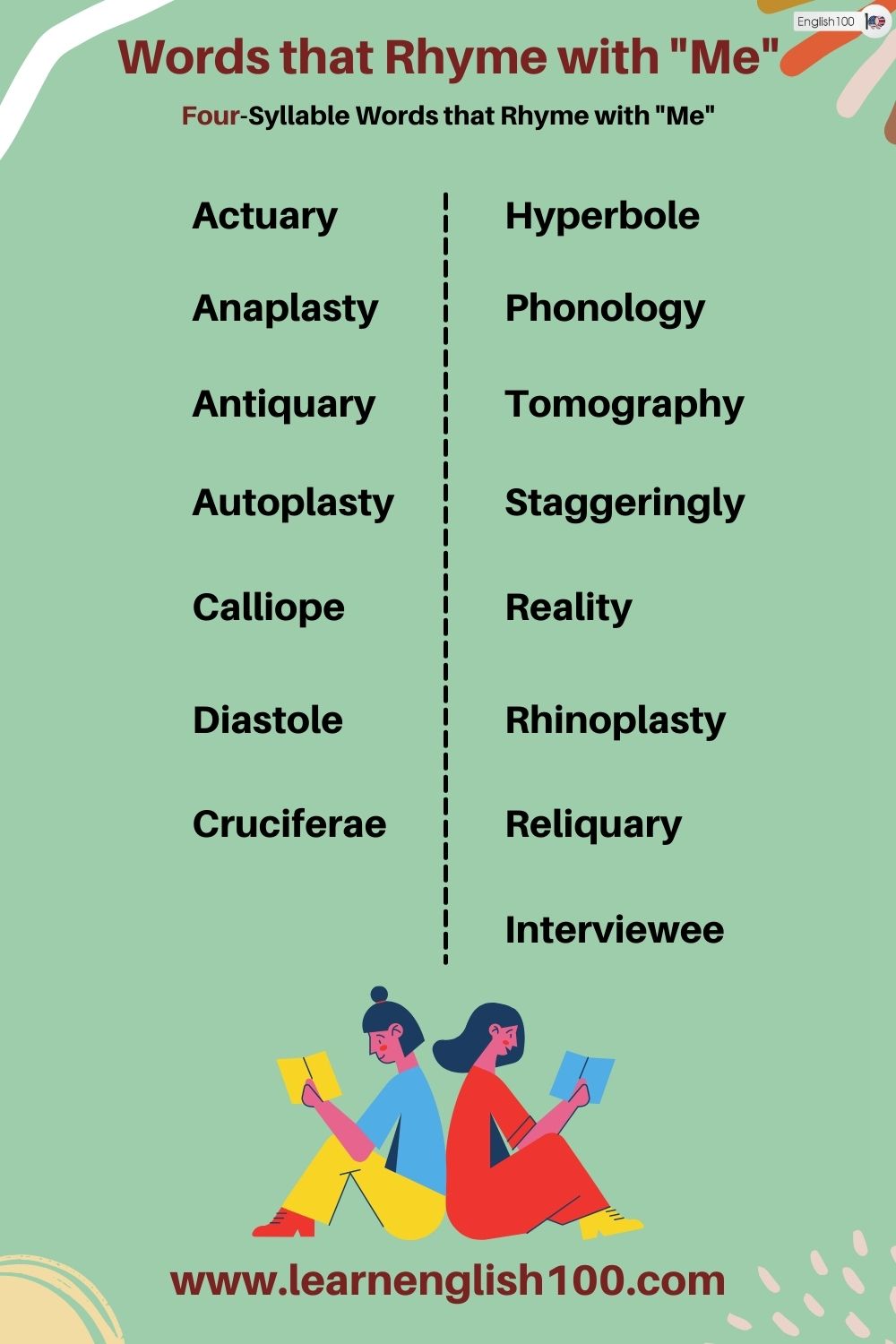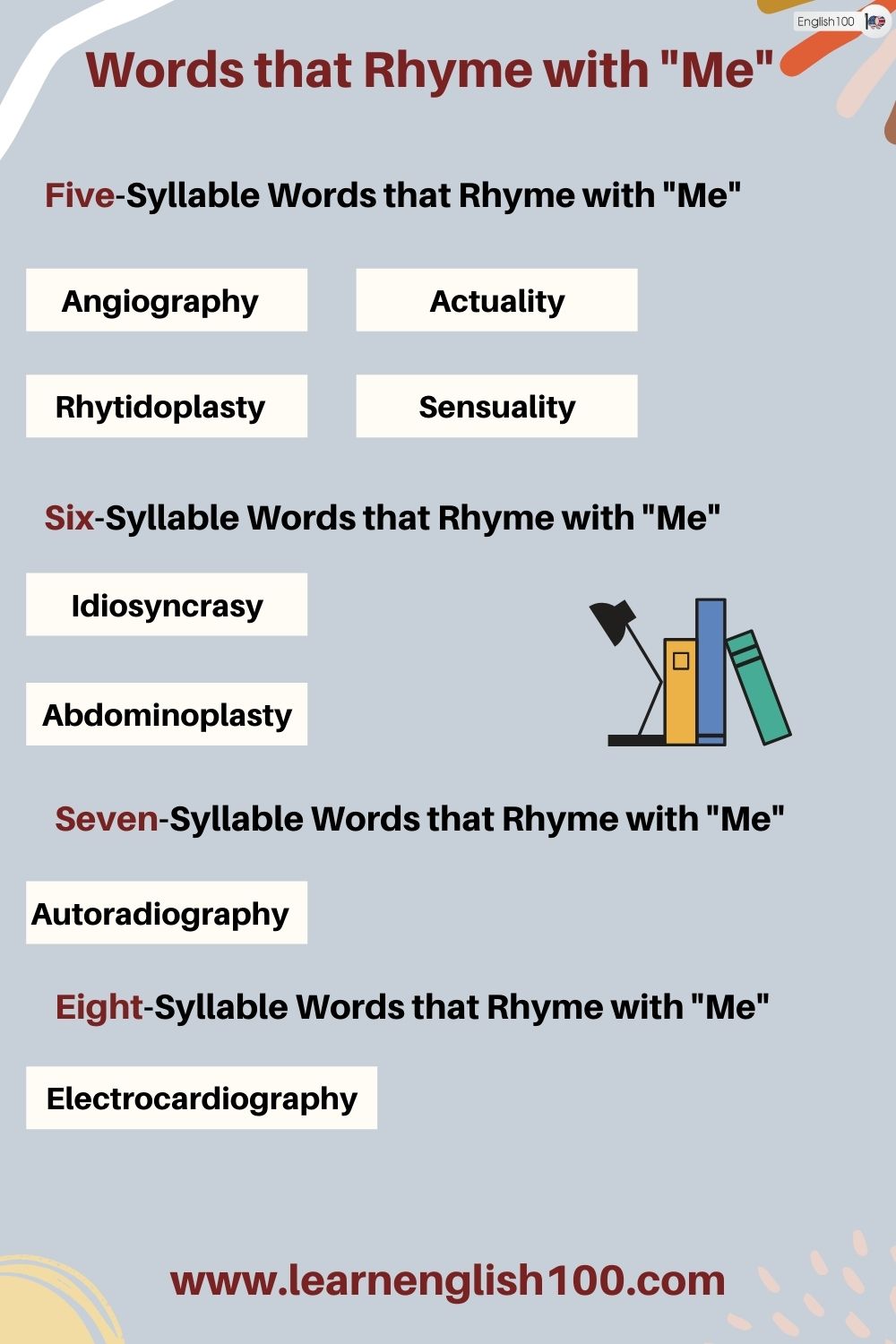 Despite What May Come to Your Mind at First. The Word "Me" is widely used and it deserves its own list of Rhymes. Let's enjoy it together!
Words that Rhyme with "Me"
One-Syllable Words that Rhyme with "Me":
Be
Bee
Brie
De
Dee
Di
Free
Flee
Flea
Fee
Gee
Ghee
Glee
He
Key
Knee
Ki
Kea
Li
Lee
Lea
Leigh
Mi
Ni
Plea
Pea
Pre
Zee
Zea
Yi
Xi
We
Wee
Tea
Three
Tree
Thee
See
Sea
Spree
Screen
She
Scree
Sri
Te
Ti
Tee
Two-Syllable Words that Rhyme with "Me"
Ackee
Agree
Banshee
Bawbee
Beastly
Capri
Carefree
CC – Acronym
CD – Acronym
Chablis
Coatee
Coolie
Cowpea
Crappie – Fruit
Curie
Debris
Decree
Degree
Draftee
Ducky
Drawee
Foresee
Emcee
Feathery
Esprit
Fusee
Goatee
Gutsy
Indri
Knock-knee
Kylie
Latchkey
Lessee
Lordly
Marquee
Marquis
Ngwee
Olea
Parsee
Pawnee
Payee
Peewee
Pony
Precis
Puttee
Rooftree
Saree
Settee
Sightsee
Snotty
Smutty
Spondee
Suttee
Teepee
Thirty
Thuggee
Topee
Trainee
Trustee
Turnkey
Tutee
Vendee
Unfree
Wampee
Weighty
Three-Syllable Words that Rhyme with "Me"
Absentee
Addressee
Advisee
Agouti
Amputee
Apogee
Appointee
Assignee
Axletree
Bourgeoisie
Bumblebee
Cherokee
Chickadee
Conferee
Deportee
Detainee
Devotee
Disagree
Divorcee
Invitee
Dungaree
Enlistee
Enrollee
Inquiry
Escapee
Esthete
Filaree
Filigree
Guarantee
Gomuti
Guarani
Honeybee
Honoree
Internee
Jamboree
Jubilee
Kedgeree
Licensee
Manatee
Milady
Nobody
Nominee
Oversee
Oversea
Parolee
Panini
Pasiphae
Patentee
Ph.D
Potpourri
Realty
Referee
Retiree
Repartee
Sangaree
Shivaree
Swingletree
Syncope
Timpani
VIP
Undersea
Wannabe
Wannabee
Warrantee
Whiffletree
Whippletree
Four-Syllable Words that Rhyme with "Me"
Actuary
Anaplasty
Antiquary
Autoplasty
Calliope
Diastole
Cruciferae
Hyperbole
Interviewee
Phonology
Tomography
Staggeringly
Reality
Rhinoplasty
Reliquary
Five-Syllable Words that Rhyme with "Me"
Sensuality
Rhytidoplasty
Angiography
Actuality
Six-Syllable Words that Rhyme with "Me"
Idiosyncrasy
Abdominoplasty
Seven-Syllable Words that Rhyme with "Me"
Autoradiography
Eight-Syllable Words that Rhyme with "Me"
Electrocardiography
Our major and main point here is that the sound /iː/ can be manifested through double (ee) or the letter (y) on its own. As you might have deduced by now adding double ee to the end of a transitive verb mean a person or a thing is the object of the said verb, to whom, or to which the verb is done. For example, the person standing there is the interviewee. In other words, the person meant by the sentence is the one going through the interview in order to apply for a position or a promotion or something of this sort.
Furthermore, as you may know, the word me happens to be used a lot by many poets and jokers. Thus this extensive list serves to help them find their missing piece. Also, it goes without saying that this list is self-reflexive meaning any part of it is its head.