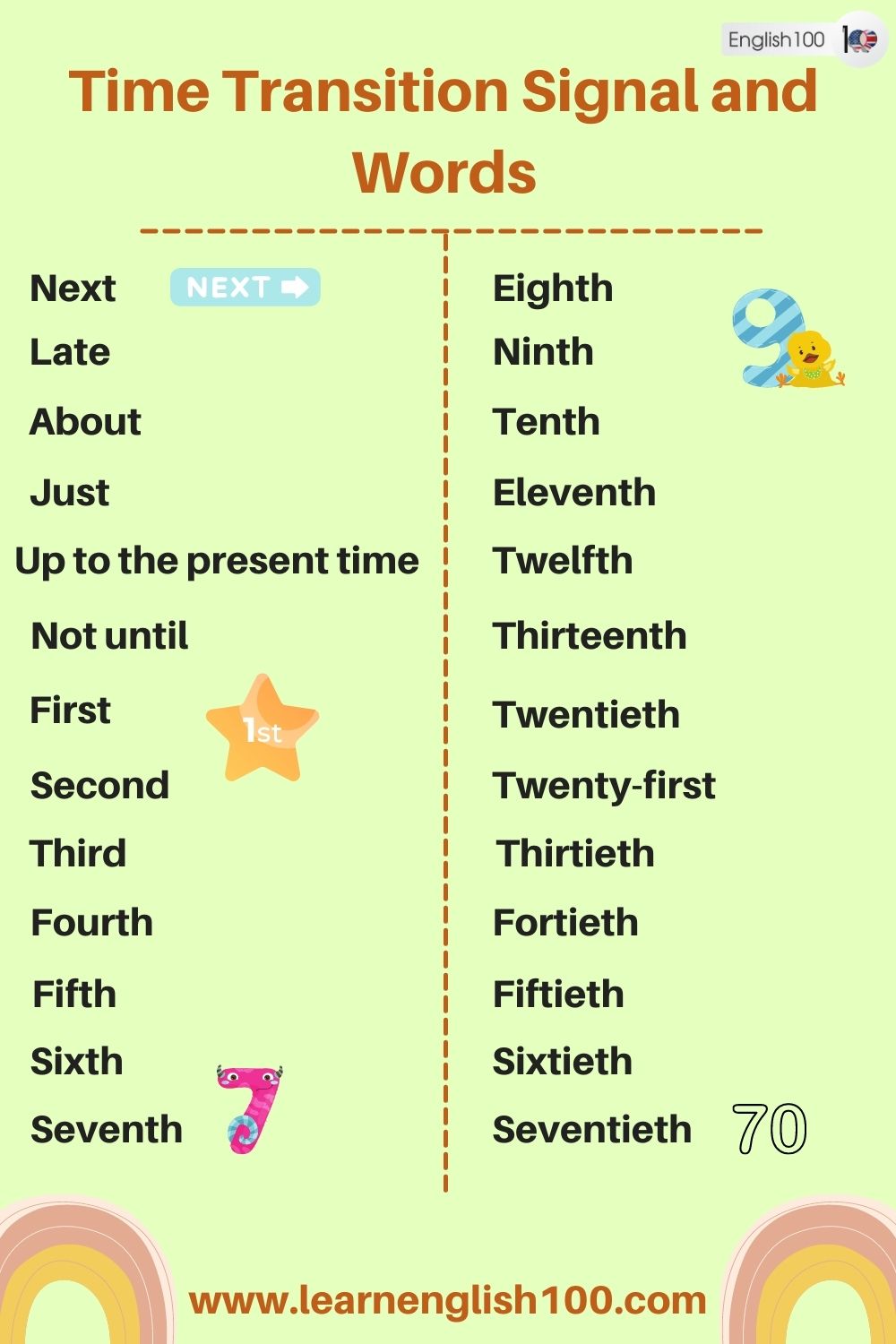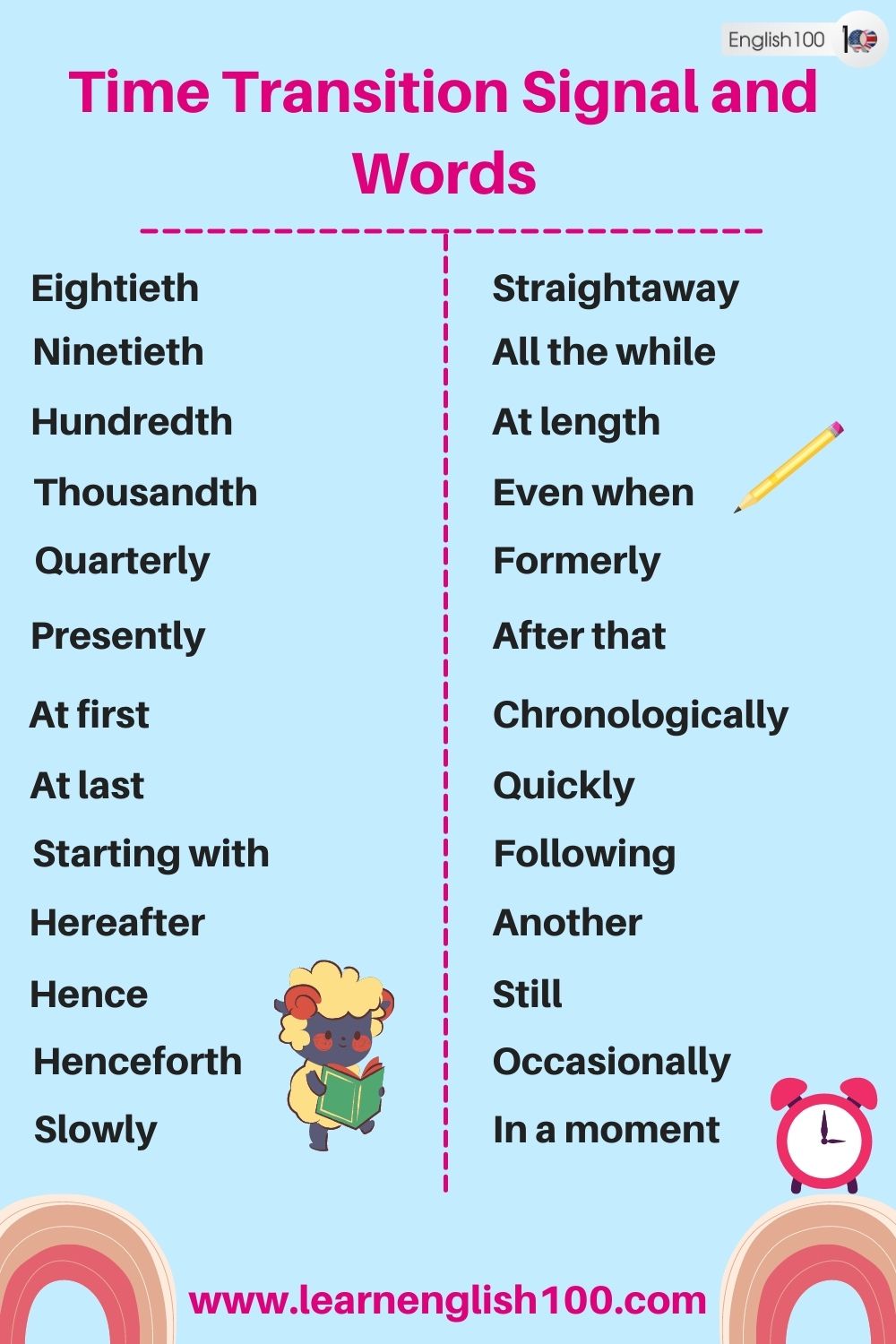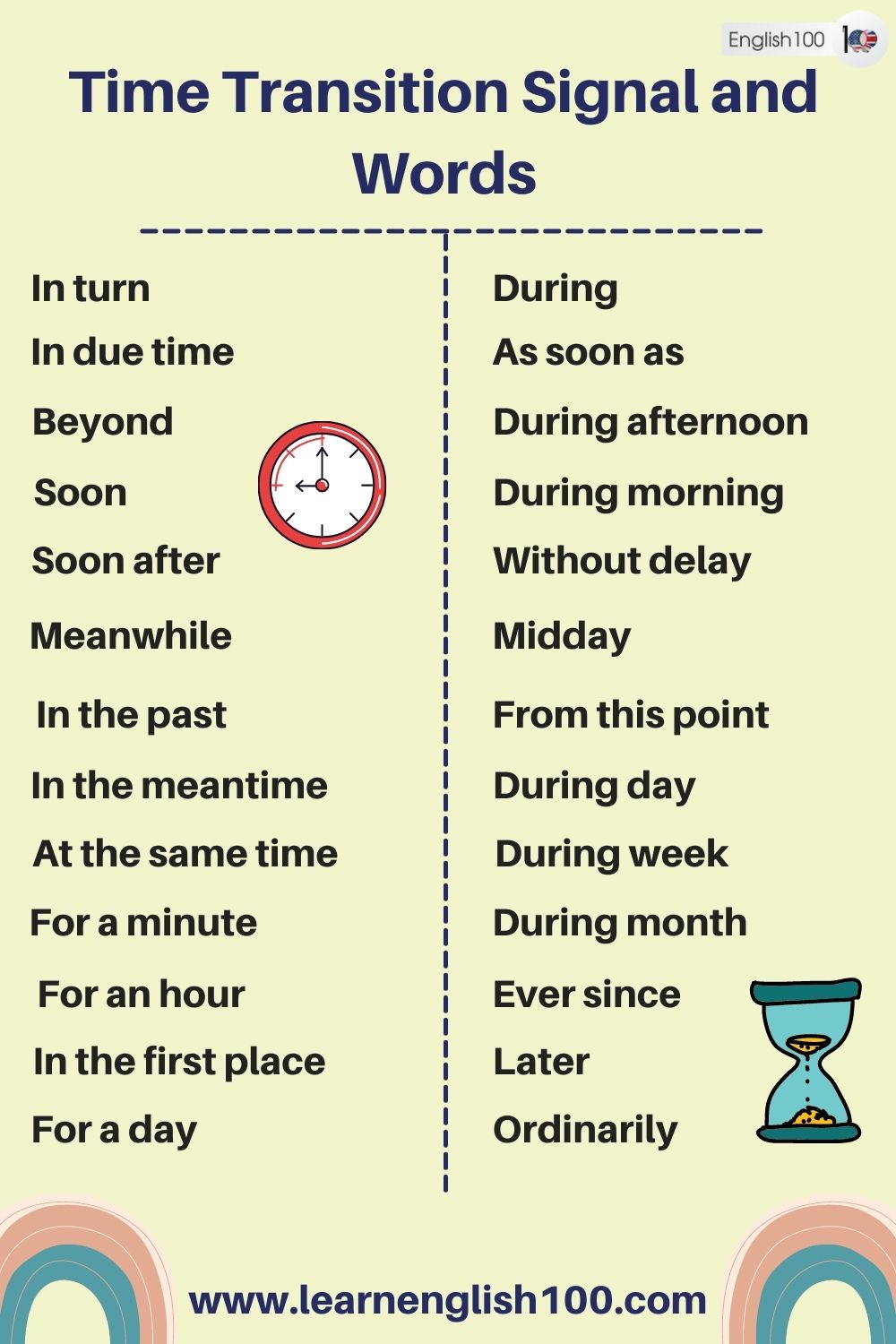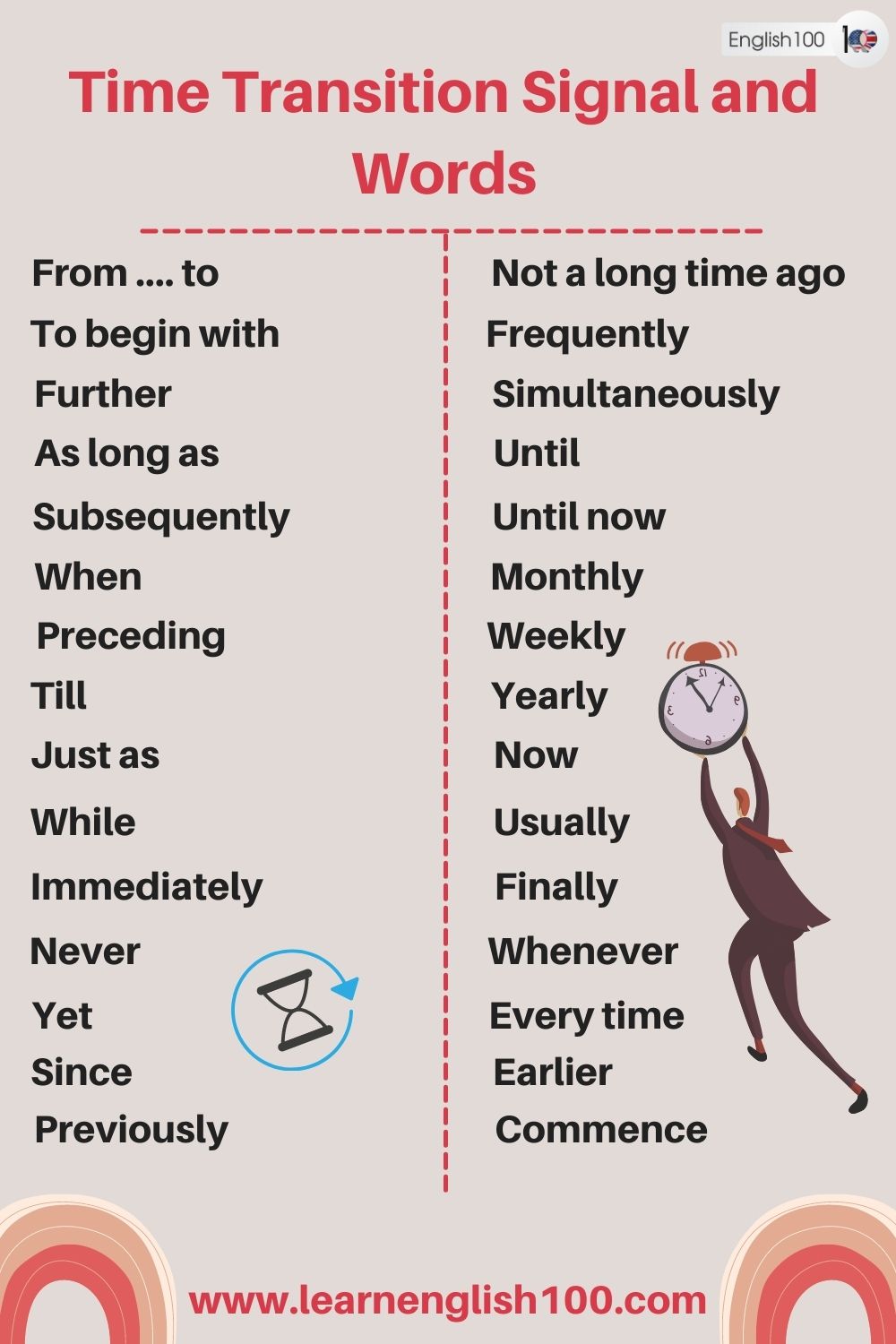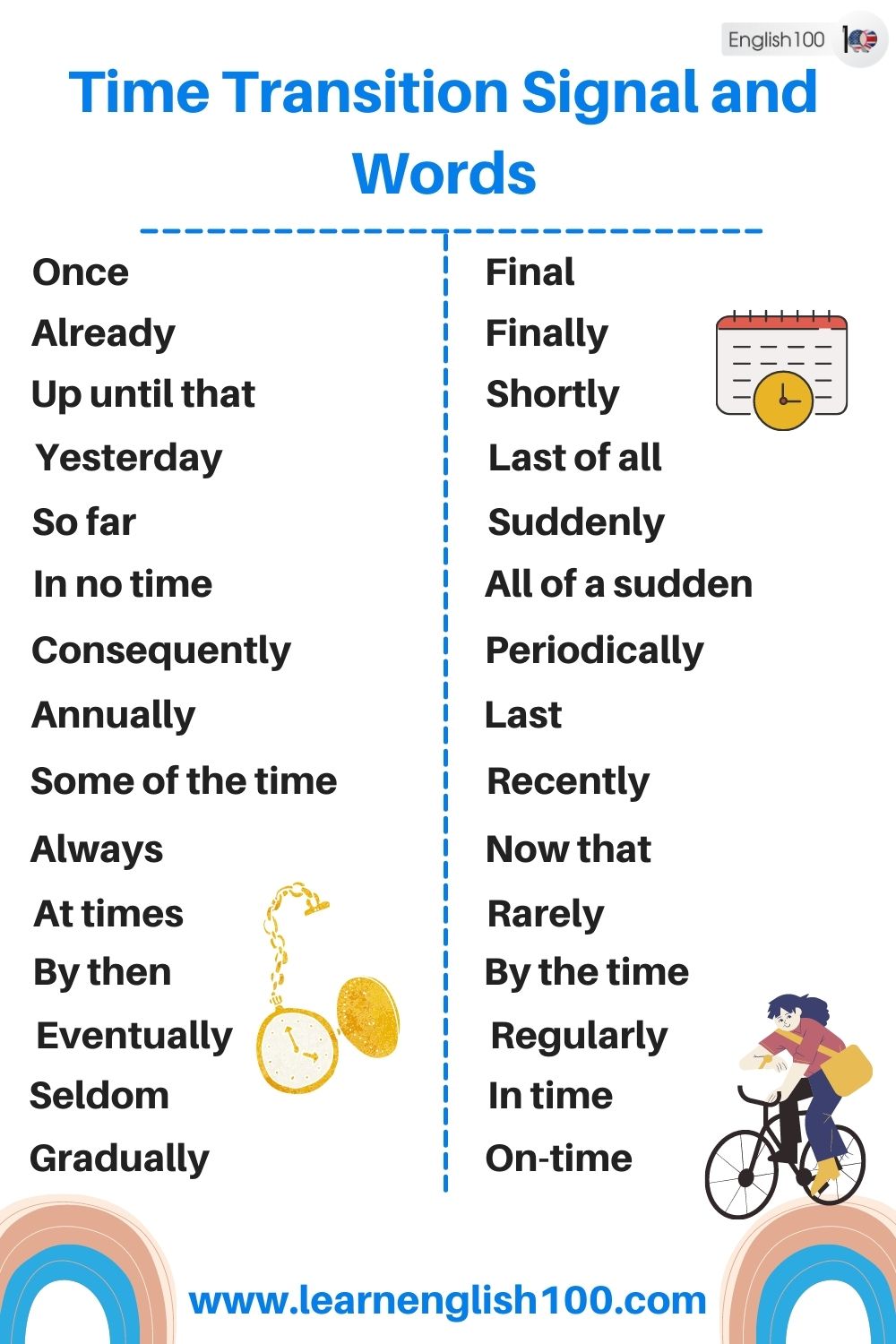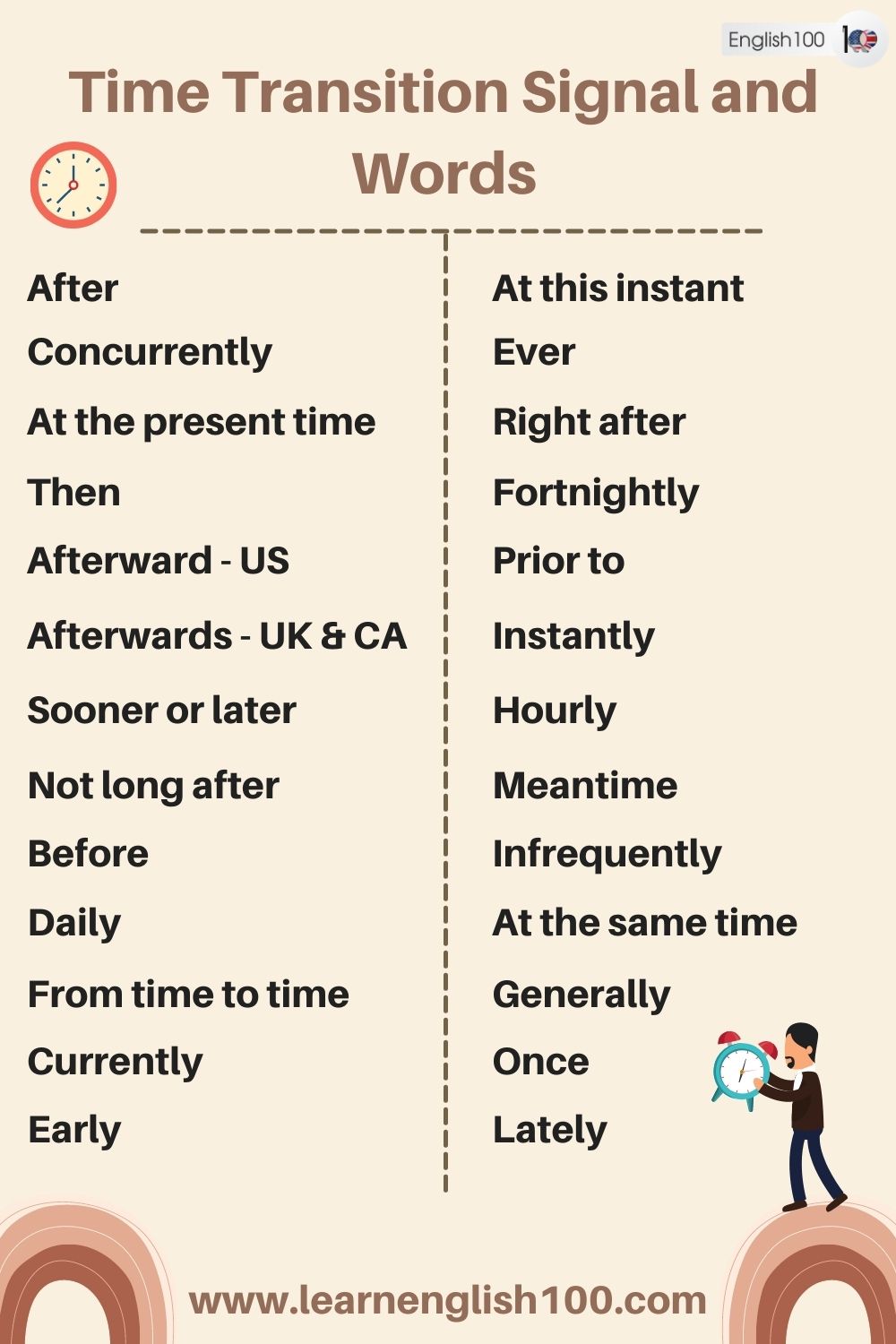 Unlimited instances require an accurate depiction of the series of events related by someone which is why we need words that express that particular order clearly.
After
Concurrently
At the present time
Then
Afterward – US
Afterwards – UK & CA
Sooner or later
Not long after
Before
Daily
From time to time
Currently
Early
At this instant
Ever
Right after
Fortnightly
Prior to
Instantly
Hourly
Meantime
Infrequently
At the same time
Generally
Once
Lately
Next
Late
About
Just
Up to the present time
Not until
First
Second
Third
Fourth
Fifth
Sixth
Seventh
Eighth
Ninth
Tenth
Eleventh
Twelfth
Thirteenth …
Twentieth
Twenty-first
Thirtieth
Fortieth
Fiftieth
Sixtieth
Seventieth
Eightieth
Ninetieth
Hundredth
Thousandth
Quarterly
Presently
At first
At last
Starting with
Hereafter
Hence
Henceforth
Slowly
Straightaway
All the while
At length
Even when
Formerly
After that
Chronologically
Quickly
Following
Another
Still
Occasionally
In a moment
In turn
In due time
Beyond
Soon
Soon after
Meanwhile
In the past
In the meantime
At the same time
For a minute
For an hour
In the first place
For a day
During
As soon as
During afternoon
During morning
Without delay
Midday
From this point
During day
During week
During month
Ever since
Later
Ordinarily
From …. to
To begin with
Further
As long as
Subsequently
When
Preceding
Till
Just as
Never
Yet
Since
Previously
Not a long time ago
Frequently
Simultaneously
Until
Until now
Monthly
Weekly
Yearly
Now
Whenever
Every time
Earlier
Commence – Commencement
Once
Already
Up until that
Yesterday
So far
In no time
Consequently
Annually
Some of the time
Always
At times
By then
Eventually
Final
Finally
Shortly
Last of all
Suddenly
All of a sudden
Periodically
Last
Recently
Now that
Rarely
By the time
Regularly
Seldom
In time
Gradually
On-time
While
Immediately
Usually
Finally
A time transition signal is needed to make sure that the previous and next data are shown in the correct order. This helps in avoiding confusion when it comes to missing information or errors which can occur if there is no time transition signal. The most common type of time transition signal is a chronological order signal. Some data types may be rendered in chronological order with a time frame before and after the presentation of the related information. For example, financial data has absolutely no meaning if it is not correlated to a specific time span Memrise pro.