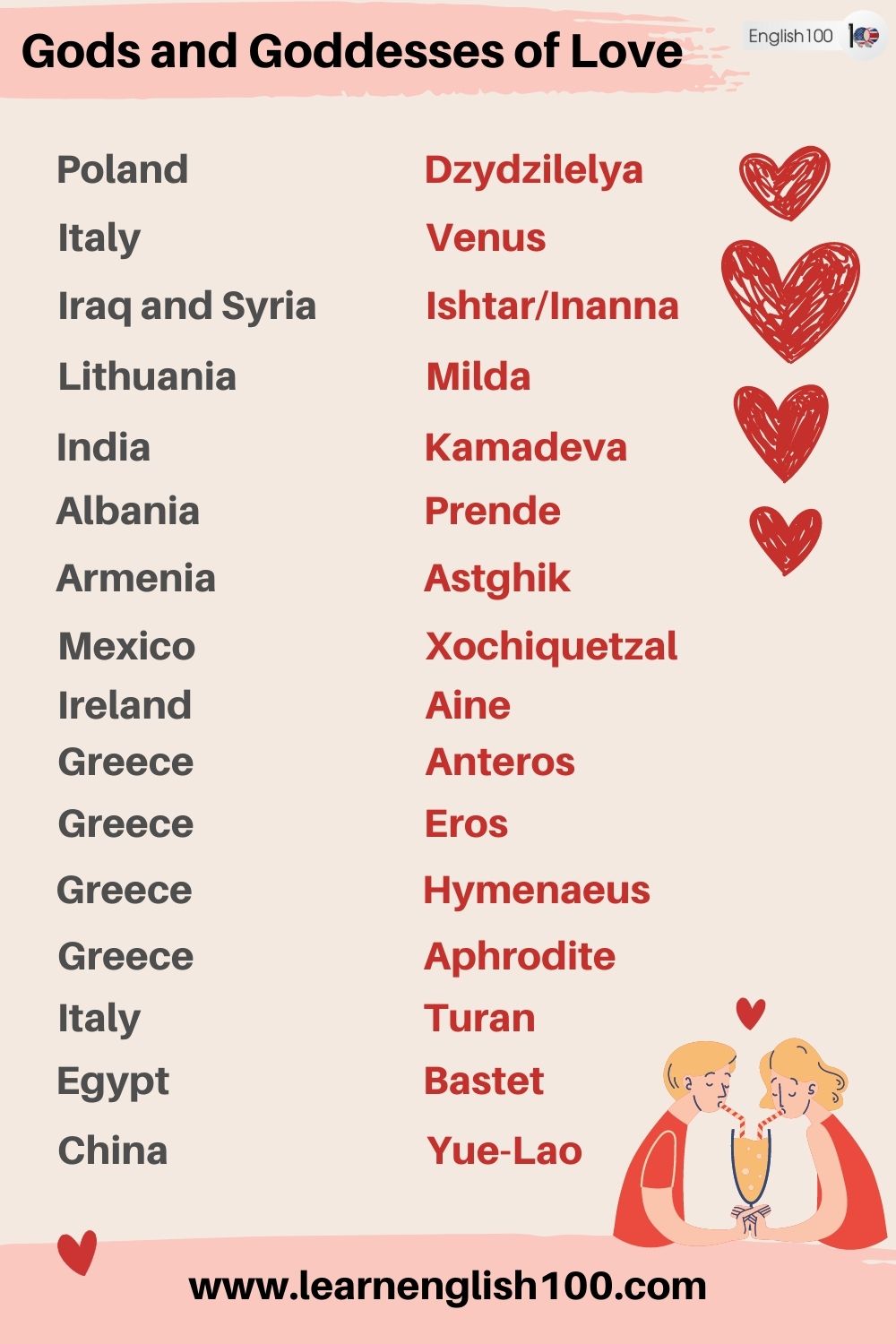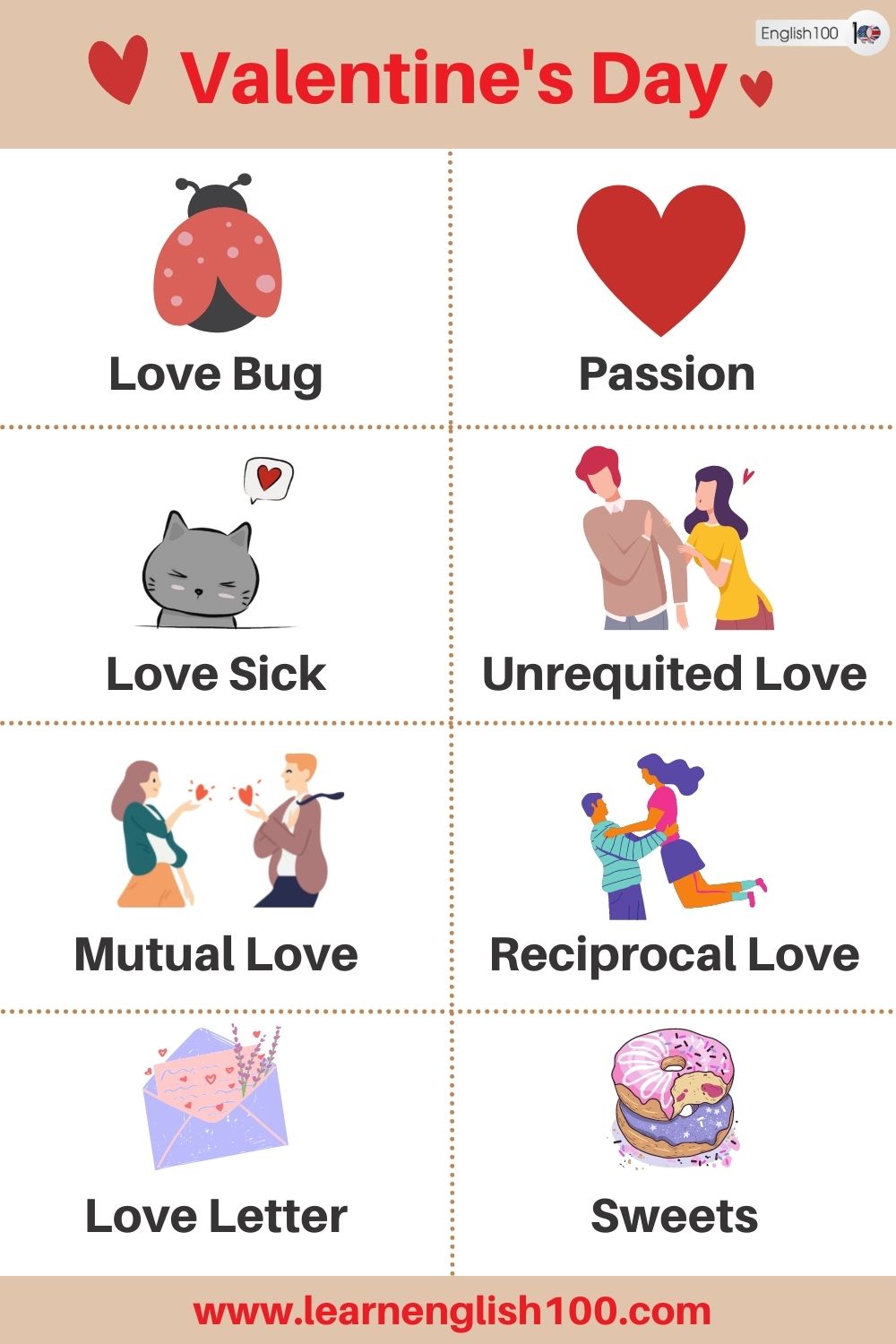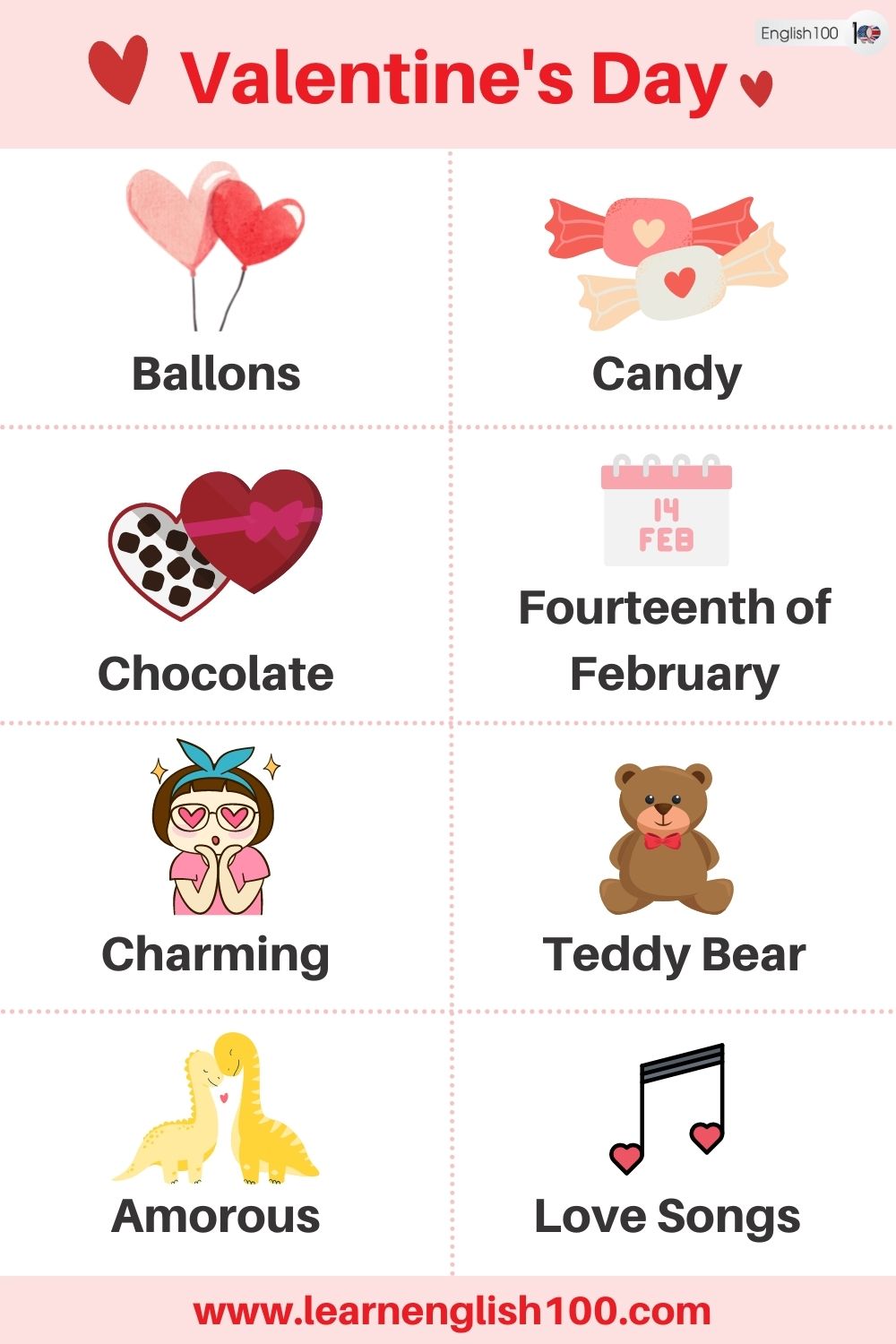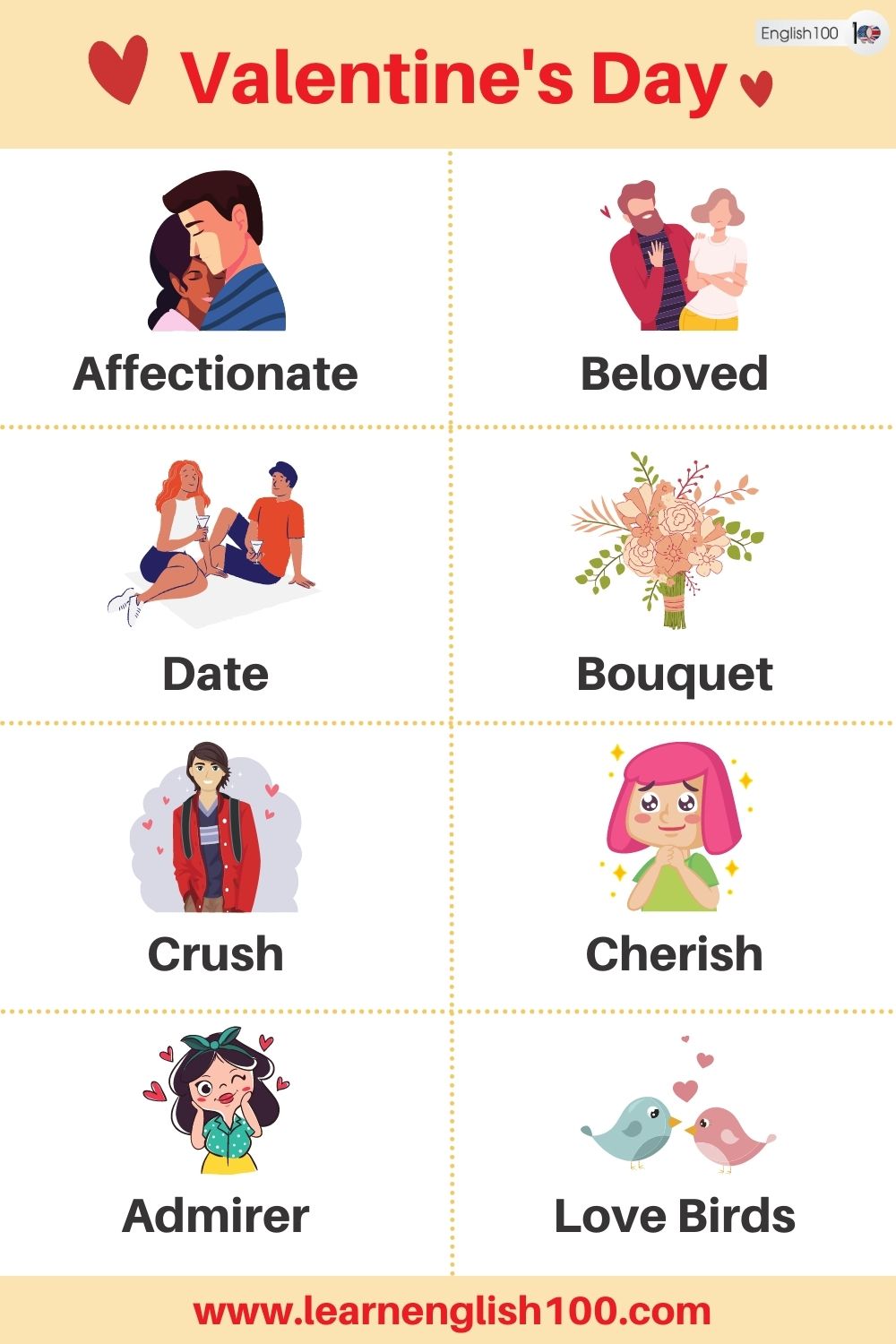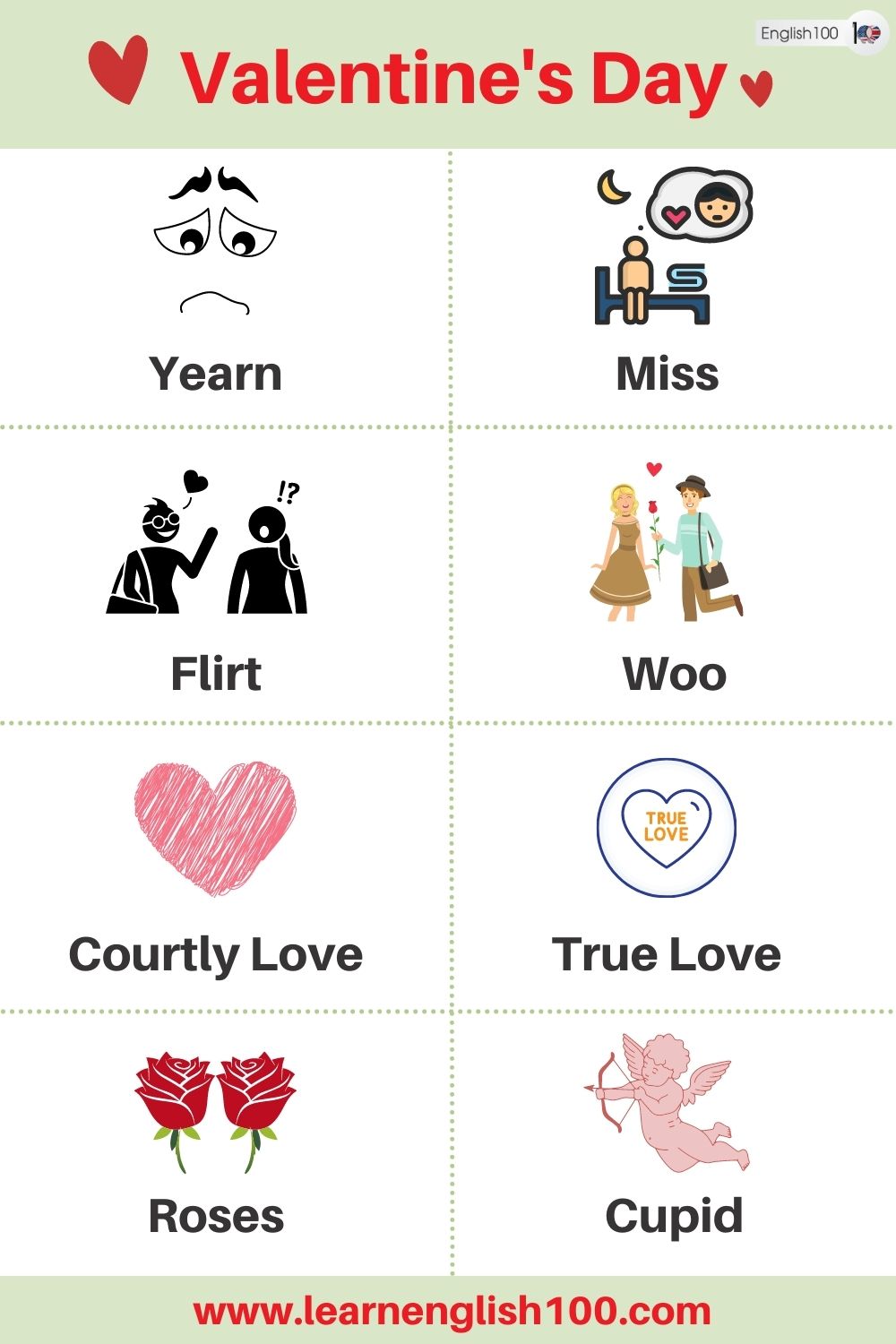 It's vital that you, as a reader, must know of the most recurring words and motifs of Valentine's Day Vocabulary.
Yearn
Miss
Woo
Flirt
Courtly Love
True Love
Roses
Cupid
Flowers
Tulips
Romance
Romantic Setting
Poetry
Infatuation
Presents
Hugs
Love Bug
Passion
Love Sick
Unrequited Love
Mutual Love
Reciprocal Love
Love Letter
Sweets
Ballons
Candy
Chocolate
Fourteenth of February
Charming
Teddy Bear
Amorous
Love Songs
Affectionate
Beloved
Dove
Betrothed
Crush
Cherish
Affection
Admirer
Love Birds
Date
Bouquet
A List of the Gods of Love
Oshun – African Goddess of intimacy, love, beauty, and wealth
Dzydzilelya – Polish Goddess of love, fertility, and marriage
Lada – Slavic Goddess of love, youth, and merriment.
Živa – Slavic Goddess of love and fertility
Siebog – Slavic God of love and marriage.
Cupid – Roman God of love and sexuality.
Venus – Roman Goddess of love, beauty, and victory.
Freyja – Norse Goddess of love, beauty, gold, and fertility.
Ishtar/Inanna – Mesopotamian Goddess of love, sexuality, and fertility.
Milda – Lithuanian Goddess of love and freedom.
Kurupi – South American God of sexuality and fertility.
Kamadeva / Kama – Indian God of love.
Prende – Albanian Goddess of love.
Astghik – Armenian Goddess of love and fertility.
Xochiquetzal – Mexican Goddess of love.
Astarte – Canaanite Goddess of love and fertility.
Aine – Irish Goddess of love, wealth, summer, and sovereignty.
Yue-Lao – Chinese God of love.
Bastet – Egyptian Goddess of felines, love, beauty, protection, dance, and sexuality.
Turan – Etruscan / Italian Goddess of love and vitality.
Aphrodite – Greek Goddess of love, lust, and beauty.
Hymenaios / Hymen / Hymenaeus – Greek God of marriage and marriage feasts.
Eros – Greek God of love and passion.
Anteros – Greek God of requited love.
Note that Mesopotamia is the region between south Turkey, west of Iran, and north of the Arab peninsula. It essentially encompasses the region of Iraq some of its surrounding countries.
We wish that all of you meet your secret admirer or admirers and have a lovely day. However, if the case happened to cause you to spend the day alone, a candlelit dinner will cheer you up for sure. By the way, getting a greeting card or a love confession letter is not what is this day all about rather it is about spreading happiness and smiles everywhere around you. It's also about forgiveness and letting go of the pent-up emotions. February 14th is not for lovers only, it is for everyone to feel happy.
There is no end to stories or information about love. Stay tuned for more articles about love and Valentine's Day and Happy Valentine's Day!