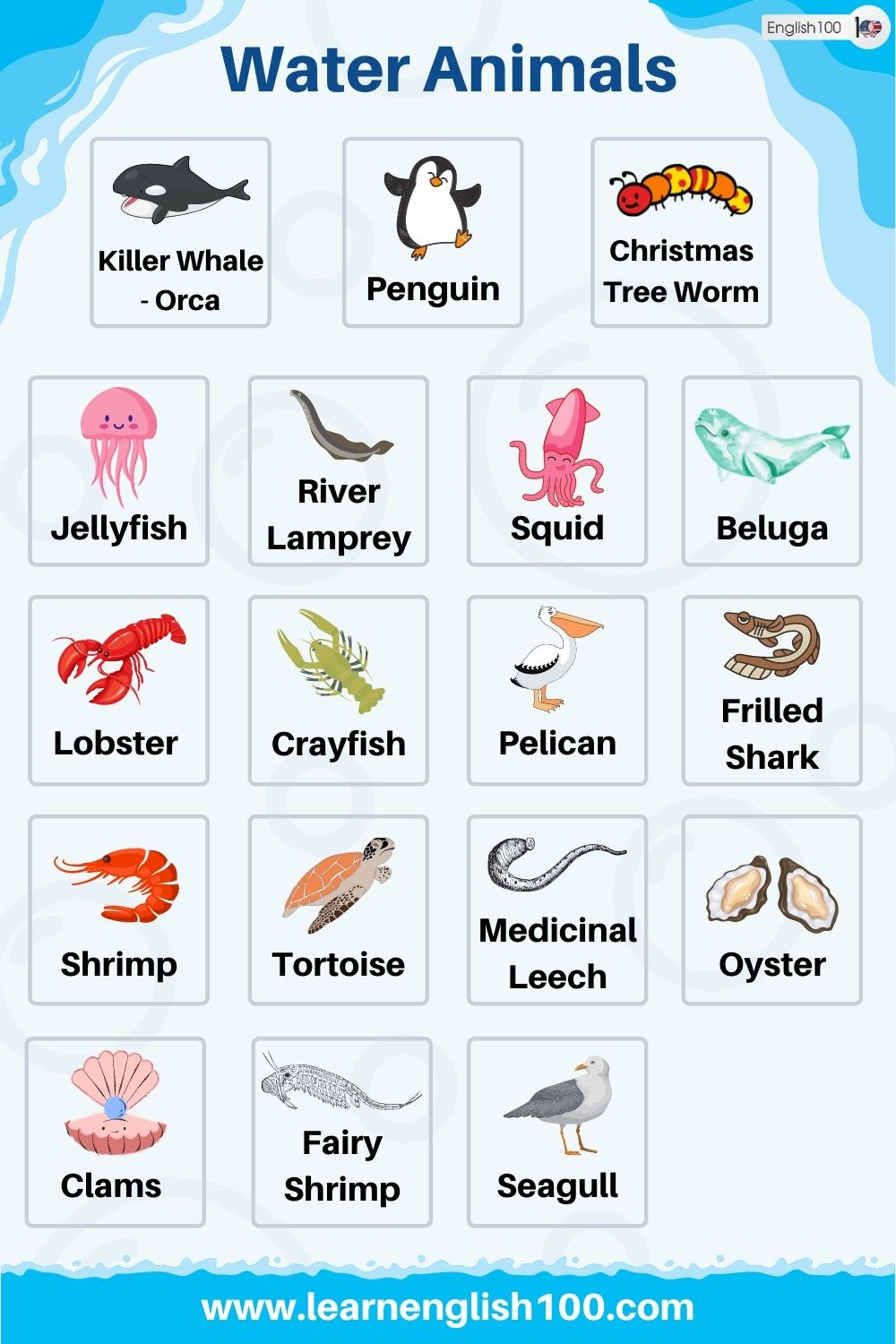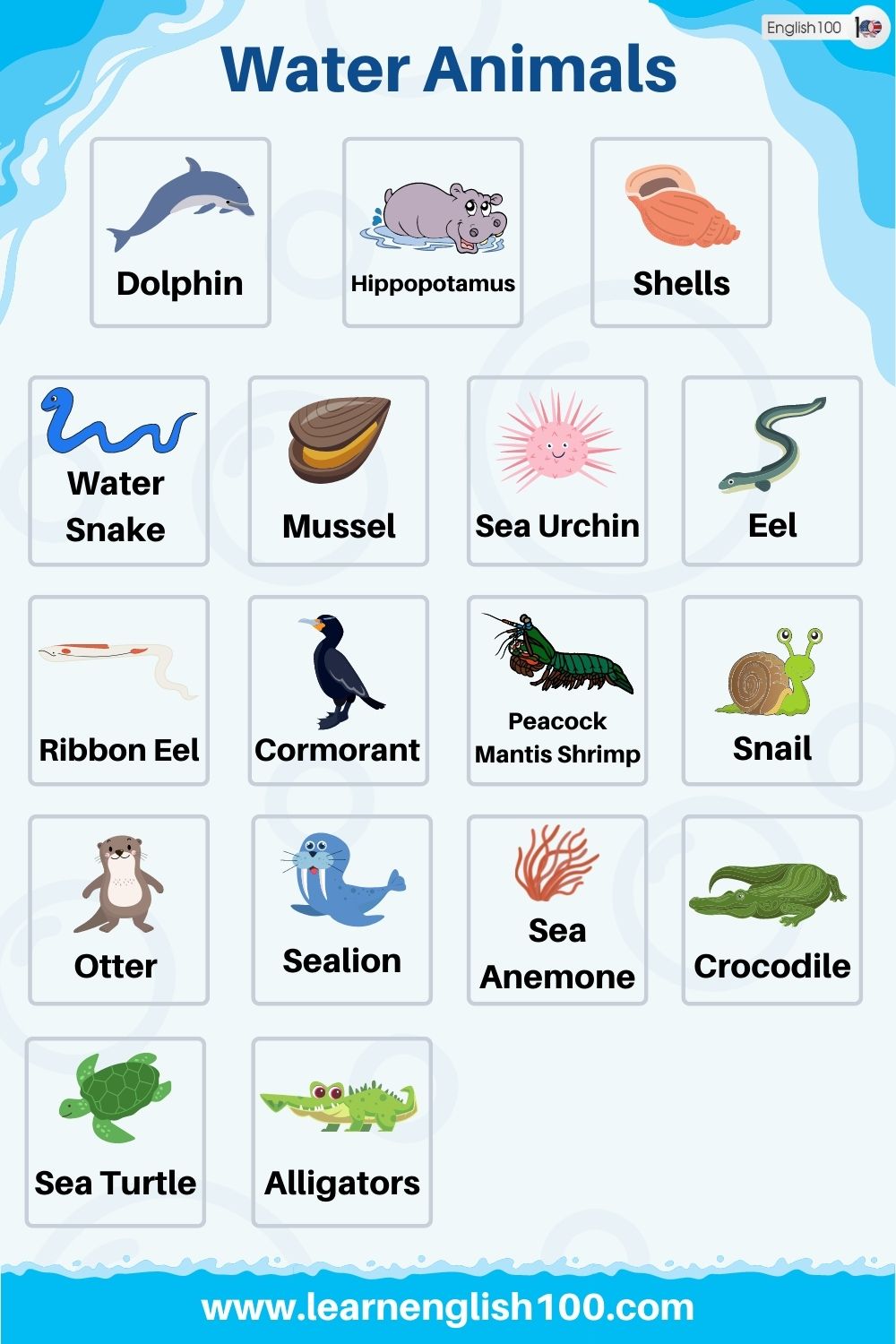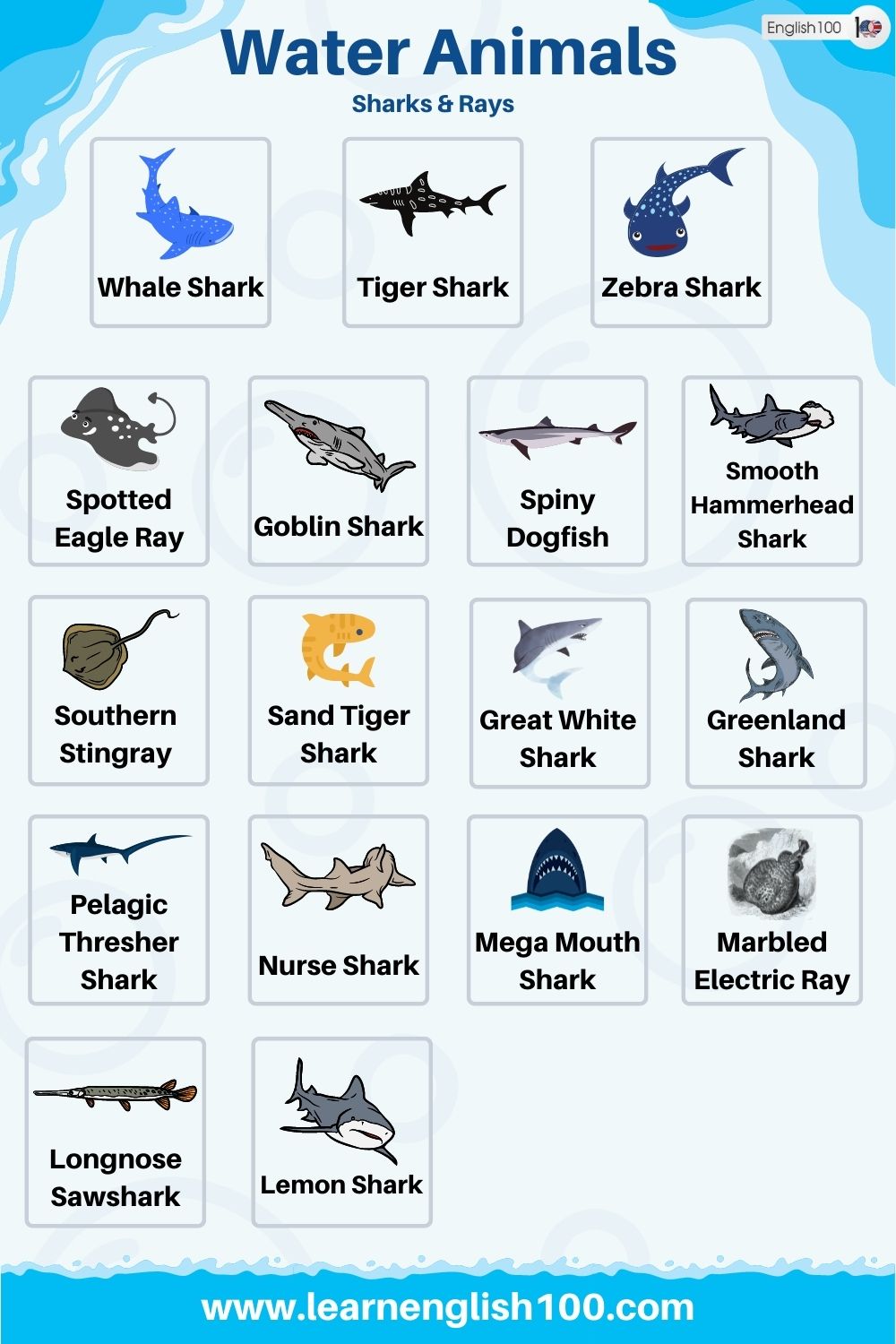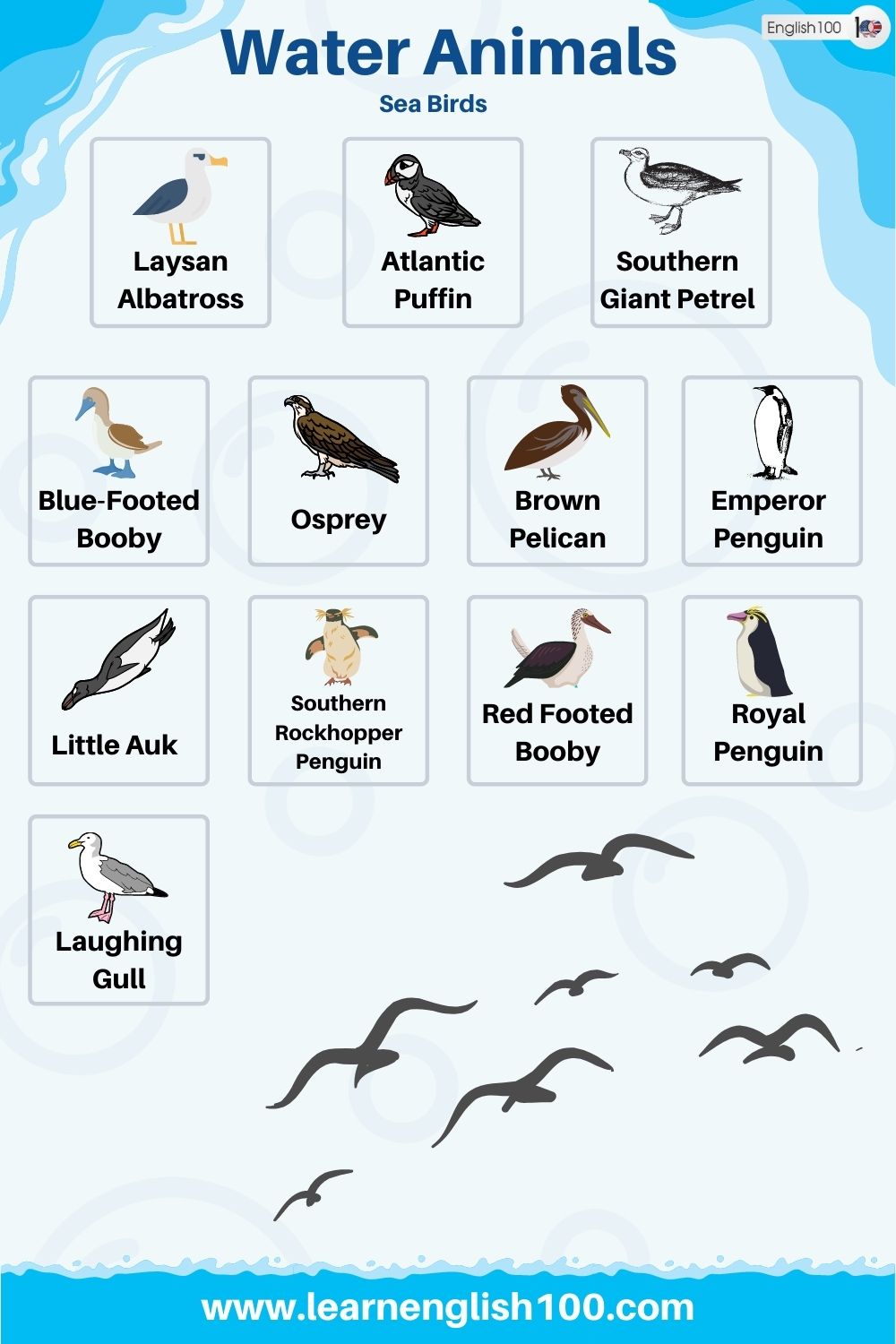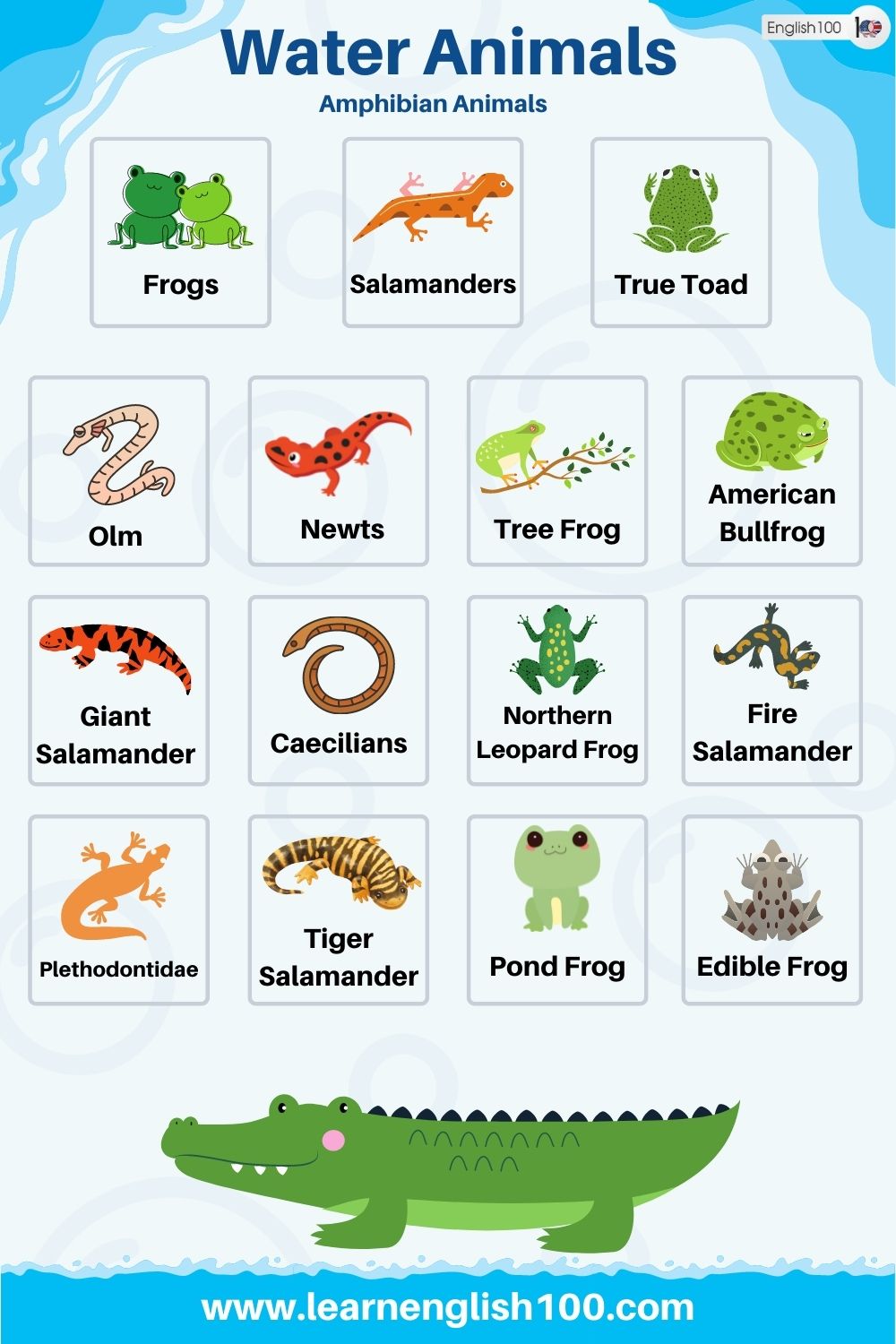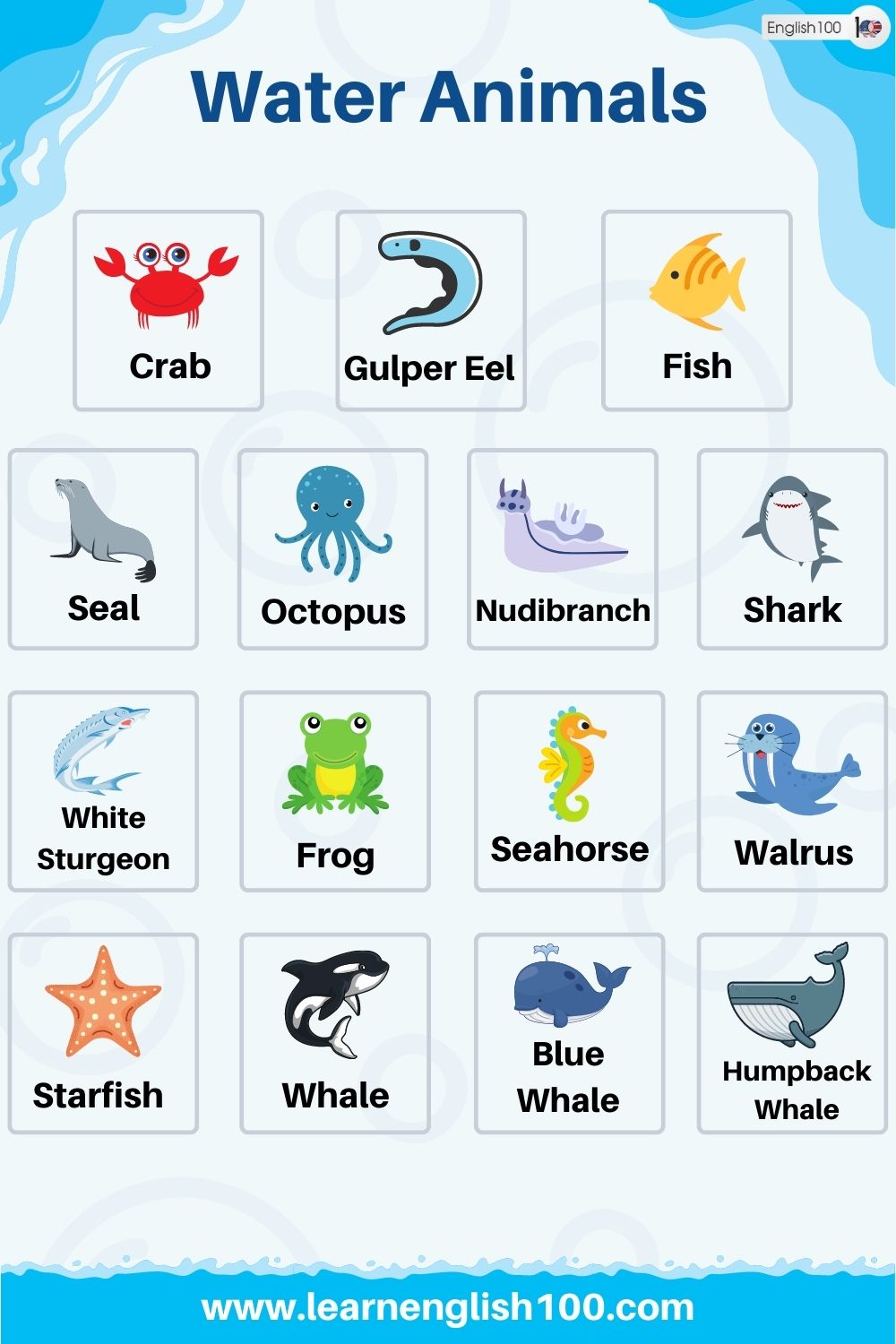 Let's Get to know some interesting information about water animals!
First of all, here is a list of all the animals that live in seas or oceans.
Crab
Glyphis
Hermit Crab
Fish
Gulper Eel
Seal
Sea Angel
Octopus
Nudibranch
Shark
White Sturgeon
Frog
Seahorse
Giant Isopod
Walrus
Box Crab
Starfish
Whale
Blue Whale
Humpback Whale
Killer Whale – Orca
Penguin
Christmas Tree Worm
Jellyfish
River Lamprey
Squid
Beluga
Lobster
Striped Mayfly
Pelican
Frilled Shark
Shrimp
Tortoise
Medicinal Leech
Oyster
Pink See-Through Fantasia
Clams
Fairy Shrimp
Seagull
Crayfish
Dolphin
Hippopotamus
Shells
Water Snake
Mussel
Sea Urchin
Eel
Ribbon Eel
Cormorant
Peacock Mantis Shrimp
Snail
Otter
Yangtze Finless Porpoise
Sea Anemone
Crocodile
Sea Turtle
Alligators
Sealion
Polar Bear
Water Voles
Coral Reef
Frogfish
Anaconda
Most of these animals are mammals, but some types of fish can procreate via eggs.
Let's Get to Know the Names and Shapes of some Sharks & Rays!
Whale Shark
Tiger Shark
Zebra Shark
Spotted Eagle Ray
Spinner Shark
Spiny Dogfish
Smooth Hammerhead Shark
Southern Stingray
Sand Tiger Shark
Porcupine Ray
Pacific Angel Shark
Pelagic Thresher Shark
Nurse Shark
Mega Mouth Shark
Marbled Electric Ray
Longnose Sawshark
Lemon Shark
Greenland Shark
Great White Shark
Goblin Shark
Giant Manta Ray
Giant Devilray
Cownose Ray
Blue Shark
Bull Shark
Sea Birds
Laysan Albatross
Atlantic Puffin
Southern Giant Petrel
Blue-Footed Booby
Osprey
Brown Pelican
Emperor Penguin
Little Auk
Southern Rockhopper Penguin
Red Footed Booby
Royal Penguin
Laughing Gull
Examples
Sea otters had been eliminated from certain areas due to overhunting.
Nobel Prize-winning work on giant squid axons was undertaken at Plymouth.
In Hampshire County, notable sightings at the Oxbow Marina included a black-bellied plover, a ruddy turnstone, a whimbrel, and a laughing gull.
Each male emperor penguin holds his egg throughout the brutal, Antarctic winter months of May and June.
The largest kind is the Emperor Penguin.
Atlantic puffins from Newfoundland and terns were reintroduced to the island.
Aquatic Animals
The term "aquatic animal" refers to a certain group of animals that are incapable of living on land and breathing air. However, there are amphibian animals that can live on land and breath the same air, we as humans breathe to survive, like beavers, and river otters.
There are three types of amphibians – Anura, Apoda, and Urodela.
Other Amphibian Animals
Frogs
Salamanders
True Toad
True Frog
Newts
Tree Frog
American Bullfrog
Giant Salamander
Caecilians
Northern Leopard Frog
Fire Salamander
Plethodontidae
Tiger Salamander
Pond Frog
Edible Frog
Olm
We hope that you enjoyed our article about marine life and its interesting creatures. While we could talk for hours about each animal from turtles and their kinds to the rare seabirds in Australia and other sea animals whether they were vertebrates or invertebrates. Stay tuned to find more in our upcoming articles about everything from arctic animals to seahorses and other sea creatures, to the animals that only live in the deepest parts of the ocean, to the animals that live only in freshwater, and especially our upcoming article that is gonna change all of your views on reptiles.